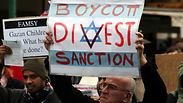 BDS protest
Photo: Reuters
Top Irish construction company sells stakes in Israeli holding company
CRH, one of the top construction companies worldwide, sells its 25% stake in Mashav Holdings; BDS claim a victory as Mashav owns Nesher which provided cement for the separation barrier, but other factors show this may not be the reason.
Has one of the largest construction companies in the world succumbed to the boycott against Israel? The BDS movement in Ireland and the United Kingdom claims that they managed to convince the Irish building materials company CRH to sell its stake in Israeli company Mashav Holdings. The reason: The company provided the cement for the construction of the separation fence.

Irish construction group CRH, one of the top ten construction companies in the world, sold its stake last weekend in Mashav Holdings, the parent company of Nesher Israel Cement Enterprises Ltd. to Israeli holding company Clal Industries.

The Irish company held a 25 percent stake in the Israeli company since 2001. CRH reported last week the sale of all its stakes in Mashav to Clal. The company did not officially give a reason for the sale but the BDS movement officially claims that the decision was politically motivated.

The chairman of Ireland's Palestine Solidarity Campaign, Martin O'Quigley, described it as an important victory for the Palestinians, "whose lives and livelihoods have been destroyed by the unceasing construction of the Apartheid Wall, which steals Palestinian lands, divides communities, destroys the social fabric and makes normal life impossible."

Over the years, Ireland's BDS movement, one of Europe's most hostile to Israel, has put massive pressure on the Irish company to withdraw all of its investments from the Israeli company because of its connection to the supply of cement for the separation wall. The Independent wrote that the Irish company's decision "ended a focus of major controversy for the Irish group."

O'Quigley boasted that "it appears that international companies are eventually learning that it doesn't pay to do business with the apartheid state."

According to estimates, pressure from BDS supporters is not the main cause of the CRH's decision, despite the fact that this is a crucial factor as the company feared a negative impact on its business. Another factor that could have led to the decision is the increased regulation of Nesher and the supervision of cement prices, which have made CRH's investment in Mashav less attractive.

Another explanation given by the Irish company relates to its decision regarding the sale of "low stakes" – and its 25 percent stake of Mashav falls exactly on this category, and the company has sold other stakes that it held in other companies.