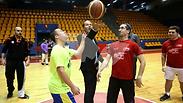 Special needs basketball team
Israel's first ever basketball league for people with special needs was launched in Jerusalem on Monday in the presence of Mayor Nir Barkat.

The unique league will enable Israeli basketball players with special needs to experience for the first time an organized framework of competitive events and games. There are many special needs basketball teams throughout Jerusalem and Israel, but until now there had been no official or organized framework for such teams.

"Jerusalem is known for its outstanding variety of populations and opinions, but when it comes to tolerance and the acceptance of the disabled, there are no divisions and we all act together for the same goal," said Nir Barkat during the event.

"I am happy to find out that Jerusalem is routinely placed first among Israeli cities in sensitivity towards the disabled," he added. "There is no bigger privilege."

The creation of the new league was initiated and developed for over a year by the Jerusalem Municipality and by the 'Alei Siach' organization, which acts to integrate people with special needs.

Rabbi Haim Frenkel, Founder and CEO of 'Alei Siach', said: "I believe with all my heart that the league's activity will act as a firm bridge of understanding, which will help remove prejudices against youngsters and adults with special needs, and help integrate them in the community."

Republished with permission from the Tazpit News Agency (TPS).