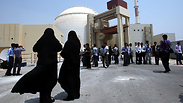 Nuclear reactor in Iran's Bushehr
Photo: EPA
The US, UN and EU announced on Saturday that they were lifting sanctions against Iran, following the UN atomic watchdog's announcement that Tehran has put in place all curbs on its atomic activities as required by its landmark deal with major world powers.
Follow Ynetnews on Facebook and Twitter

In Vienna, Federica Mogherini, the European Union's foreign policy chief, said in a joint statement also read in Farsi by Iranian Foreign Minister Mohammad Jawad Zarif that "the multinational economic and financial sanctions related to Iran's nuclear program are lifted."

US Secretary of State John Kerry said Iran has met its obligations to the IAEA and ordered that nuclear-related US economic sanctions against Iran be lifted.

Speaking after Mogherini and Iranian Foreign Minister Mohammed Zarif, Kerry said: "Today marks the moment nuclear accord transcends from ambitious promise to direct action.

Kerry added that the agreement shows "once again diplomacy's power to tackle significant challenges."

President Barack Obama signed executive orders lifting the sanctions, which will allow Iran to immediately recoup some $100 billion in assets frozen overseas. Iran will also see huge benefits from new oil, trade and financial opportunities.

The wave of activity was prompted by a statement from IAEA Secretary General Yukiya Amano earlier on Saturday, in which he announced that "Iran has completed the redress steps needed to start the implementation" of the agreement.

The UN Security Council's receipt of the IAEA's report automatically triggered the lifting of most UN sanctions on Iran, the Council head announced.

The European Union also started the process of lifting sanctions on Iran after the bloc's foreign policy service took note of the IAEA's report saying Tehran had scaled down its nuclear programme as agreed, EU diplomats said.

They also said the formal lifting of sanctions should be rapid. An official decision of the European Council, which brings together leaders of 28 EU members, is required to finalize the process, together with a publication in the EU's Official Journal.

In response to the announcement, Israeli Prime Minister Benjamin Netanyahu said that Israel would "continue to follow the implementation of the agreement and raise the alarm about any infractions.

"Even after the signing of the nuclear agreement, Iran has not abandoned its ambition to acquire nuclear weapons and continues to work to destabilize the Middle East while spreading terrorism around the world, in violation of its international obligations," Netanyahu continued.

Iranian President Hassan Rouhani tweeted his congratulations on the landmark step, saying: "I thank God for this blessing and bow to the greatness of the patient nation of Iran."

The United Nations secretary-general also welcomed the implementation of the nuclear deal as "a significant milestone."

Ban Ki-moon said the IAEA's certification that Iran has met all of its commitments "reflects the good faith effort by all parties to fulfil their agreed commitments," according to a statement from his spokesperson.

Earlier on Saturday Iran freed four Americans including a Washington Post reporter in a prisoner swap, which also involved US President Barack Obama pardoning three Iranians charged with sanctions violations.

Under the July 14 deal, Iran agreed to scale down dramatically key areas of its nuclear activities in exchange for relief from painful sanctions, notably on Tehran's lifeblood oil exports.

These steps, combined with ultra-close IAEA inspections, extend to at least one year - from just a few months previously - how long Iran would need to make one nuclear bomb's worth of fissile material.

Since July, Iran has drastically reduced the number of centrifuges installed at its enrichment sites, shipped tonnes of low-enriched uranium materials to Russia and dismantled the core of its Arak nuclear reactor.

Iran has always denied wanting nuclear weapons, saying its activities are exclusively for peaceful purposes such as power generation.

The hard-fought agreement was sealed in Vienna by Kerry, Zarif, Mogherini and the foreign ministers of Russia, China, Britain, France and Germany after two years of rollercoaster negotiations following the June 2013 election of moderate Iranian President Hassan Rouhani.

The highly complex deal drew a line under a standoff dating back to 2002 marked by several failed diplomatic initiatives, ever-tighter sanctions, defiant nuclear expansion by Iran and threats of military action.

In addition it put the Iran and the United States on the road to better relations some 35 years after the Islamic revolution that topped the US-backed Shah, and at a particularly explosive time in the Middle East.
Daggers drawn
The agreement, heralded as US President Barack Obama's biggest - and some might say only - major foreign policy triumph, has by no means been universally cheered, however.
Obama's Republican opponents charge that it fails to do enough to ensure Iran will never get the bomb, a complaint shared by Israel.
Sunni Saudi Arabia, Iran's other great regional rival, is also alarmed at the prospect of warmer US-Iran ties and of predominantly Shiite Iran, newly flush with oil revenues, increasing its influence.
Kerry, whose trip to Vienna was announced late Friday, sought to allay his Saudi counterpart's fears on Thursday in London, telling Adel al-Jubeir that the two nations' "friendship... remains a lynchpin of our efforts in the region."
Already Saudi Arabia and Iran, fighting a proxy war in Yemen and key players in the Syrian conflict, are at daggers drawn following Saudi Arabia's execution of a Shiite cleric in early January and the subsequent ransacking of the Saudi embassy in Tehran.
Iran's imminent return to the oil market has also contributed to the sharp slide in the price of crude to 12-year lows of under $30 per barrel this week, putting Saudi Arabia's public finances under strain.
The lifting of sanctions on Iran is "going to put 500,000 barrels per day more on the market," said James Williams of WTRG Economics. Some analysts believe $20 oil is on the horizon.
Bumpy road
The deal has more than a decade to run, which is likely to be a bumpy road, experts say, not least if more hardline governments take power in Tehran or Washington.
Washington and Tehran are still far from being best friends, as witnessed by Iran's recent capture of 10 US sailors in Iranian waters, although their improved relations did help ensure their swift release.
Iran violated a UN resolution in October when it test-launched a medium-range missile capable of carrying a nuclear warhead, a UN panel of experts has concluded in a report in December.
A "snapback" mechanism ensures that many of the sanctions can be swiftly reimposed, and special Joint Commission is meant to handle any misunderstandings.
"Iran may test the boundaries of the agreement. It is critical that violations do not go unpunished, or the deal could be killed by a thousand paper cuts," said Kelsey Davenport of the Arms Control Association.
"At the same time, punitive actions for violations on both sides should be proportionate, and differentiated from technical missteps, which may occur under such a complex agreement," she told AFP.
Agence France-Presse, The Associated Press and Reuters contributed to this report.