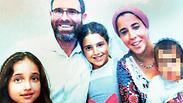 Dafna with husband Natan and some of their children
Hundreds arrived at the Givat Shaul cemetery on Monday morning to accompany Dafna Meir, who was murdered by a terrorist in her home, on her final journey.

Meir, 38, is survived by her husband Natan and their six children: Renana, 17, Akiva, 15, Ahava, 10, Noa, 11, Yair, six, and Yaniv, four. The four older children are Dafna and Natan's biological children, and the two younger ones - Yaniv and Yair - are brothers that the couple adopted.

At their mother's funeral, the children could not stop crying. "I didn't just lose a mother, but also my best friend," said Dafna's eldest daughter Renana, 17, at her mother's funeral.

"It's hard for me to think we will not laugh together or fight anymore, that you won't accompany me to the IDF induction center, down the aisle, and to the maternity ward," Renana continued.

"I'm sorry that in your hardest moments I was unable to help you."

It was Renana who witnessed her mother's murder and called for help. "My mother was stabbed, my mother was stabbed. Help me," she cried into the phone. Dafna fought off the terrorist, in an effort to stop him from hurting her children, and Renana's screams helped scare him off.

"You left me with six treasures, I will keep them safe for you," husband Natan said in a voice choked with tears.

"My Dafna is one in a million, who grew up in a house that wasn't a home and still managed to rehabilitate. She decided to give back grace to the world, and she did," Natan said of his wife, who grew up in foster homes since she was 13 years old.

"We met when we were soldiers, at the south Lebanon border. It only took us a moment to fall in love. My Dafna, thank you for every moment I had with you," he continued. "Our love is too strong to be a passing thing."

"You came to us when you were 13," said Dafna's adoptive mother Atara. "I remember the first time you came to us, I wanted to hug you and you took two steps back, you weren't able, I guess you didn't know what love is and what family is, that you can hug and kiss them and spend Shabbat together. And it was on your birthday."

"With time we got used to each other and you became a daughter to us, and we were so happy with you, even though you came from a completely different background. It's only now that I realize how God brings people together," Atara continued.

Atara also spoke about Dafna's desire to adopt children. "Dafna told me, 'I want to share something with you that I haven't told you until now. When Natan asked for my hand in marriage, I told him I had one condition - it doesn't matter how many children we have, we will also adopt children."

Some 1,500 people attended Dafna Meir's funeral at the Givat Shaul cemetery in Jerusalem. Among them were Education Minister Naftali Bennett (Bayit Yehudi) and Culture Minister Miri Regev (Likud) - who also spoke at the funeral.

"Dafna, I came to ask for your forgiveness," said Regev. "Our job is to keep you safe, like all other Israeli citizens. We were unsuccessful this time."

She lamented the "spiritual poison that poisons the hearts of the murderers who go out to kill with a knife in hand. It's easy to spread the poison; it's hard to deal with it."

The culture minister also issued a warning to "the Arab public in Yatta, Arara and Hebron - faith, prayer and good deeds are welcomed, but the State of Israel will not allow murderous beliefs as part of the freedom of religion. Those who threaten our freedom will not get to enjoy it."

"We are facing a nation that sends its children to protect murderers, monsters who sanctify death, and a nation whose leaders rejoice at every violence," Bennett said.

"If we weren't so sad, we'd feel sorry for you - a nation whose heroes murder our mothers. A nation like this could never be part of the community of nations, and a nation like this will never have a state. There's no state for hatred," the education minister added.

Chief Rabbis Yitzhak Yosef and David Lau also spoke at the funeral.

"This isn't the first time over the past four months we've been here, and every time the pain formulates anew," Rabbi Lau said. Dafna, he continued, "was devoted to Jews, Arabs, everyone. Good Lord! You said you would not take a mother of children, and here was a mother taken in front of her children."

Also in attendance were Opposition leader Isaac Herzog (Zionist Union), Deputy Defense Minister Eli Ben Dahan (Bayit Yehudi), and MKs Elazar Stern (Yesh Atid) and Moti Yogev (Bayit Yehudi).

Relatives of Eitam and Na'ama Henkin, who were murdered in front of their children in a drive-by shooting in early October, also attended the funeral.

Meir, the 28th victim of the current wave of murderous terror attracts, was well-known in the settlements. "She was a happy woman, full of joy, optimistic, responsible, loving," neighbor Yishai Klein described her on Sunday evening.

She was a naturopathic practitioner specializing in fertility and the woman's body, and worked as a nurse at the Soroka Medical Center in Be'er Sheva. "Any person in pain at the settlement knew they could turn to her 24/7," Klein said.

Prof. Yohanan Peiser from the Soroka Medical Center eulogized her on Monday morning in Otniel: "Who would've believed that we would be standing here on such tragic circumstances. Dafna was saving lives here and her own life was taken in front of her children. She always did above and beyond."

Husband Natan and son Akiva read Kaddish (צילום: עפר מאיר )

Hundreds residents of Otniel gathered outside the settlement's synagogue to eulogize Meir early Monday morning.

"We lost a sister who was in our hearts and souls," Efrat Dahan eulogized her friend Dafna. "We met four years ago when we were sitting at the playground and we immediately became friends."

"Dafna, ask for mercy for Natan and the children. We, down here, will watch over them," Dahan promised.

Abigail Rosenberg, another friend, had a hard time speaking. "How do you eulogize a friend? Every meeting was a basis for laughter and humor. You shared your life with us with such openness, and this is how you were with many others. You were a devoted mother and sister."

On Sunday evening, Dafna's friend Liron Shtrenberg spoke of "a woman who enjoyed life, the wittiest woman I knew, who knows how to spice her speech with winged words and fine cynicism.

"She was always searching for ways to help others, whether it was taking in two foster children, or as a nurse at the neurosurgical department. I'm a social worker in Beit Hagai, and she was always inviting teens who didn't have anywhere to go to her home."

Liron also told of Dafna's work as a naturopathic practitioner. "Women with fertility problems from all over the country called her; they all knew they could turn to her. She taught awareness to fertility. She had hundreds of students. To her, this was a mission, to help women be aware of their fertility, what times of the month they could get pregnant," Shtrenberg said.