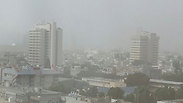 Tel Aviv in the haza
Photo: Meirav Green
The Health and Environmental Protection Ministries warned Israelis on Monday not to spend too much time outdoors due to the heavy pollution caused by the haze that has blanketed the country.

The Economy Ministry urged contractors not to do construction work at higher floors or operate cranes in the coming days.

The levels of air pollution measured on Monday were unusually high. A significant increase in air pollution was measured around noon time due to the high concentration of dust and sand particles in the air.

In Modi'in, the level of air pollution measured on Monday morning was nine times the average, while in Rehovot and Be'er Sheva it was eight times the average, and in Tel Aviv, Beit Shemesh and Ashdod, levels of air pollution were seven times the average. In Haifa, air pollution levels stood at six times the average.

The levels of air pollution throughout the country went down on Monday afternoon. As of 2pm, the levels of air pollution measured were: Hadera, 5.4 times of the average; Arad, 4.5 times; Tel Aviv, 4.4 times; Kiryat Ata, 4.1 times; Beit Shemesh, 3.9 times; Caesarea, 3.8 times; Modi'in, 3.8 times; Jerusalem, 3.8 times; Gush Etzion, 3.7 times; Be'er Sheva, 3 times.

The Environmental Protection Ministry recommended that heart and lung patients, the elderly, children, and pregnant women avoid any strained physical activity outside, and in general do not go outside if it's not necessary.

"The problem is that the haze has tiny particles of dust and metals flying through the air," said Prof. Aharon Kessel, the head of the Israeli Allergy and Clinical Immunology Society. "If you breathe these particles, they sink inside the respiratory system. For asthma patients and older people, this could lead to inflammation and to their condition getting worse."

The Meteo Tech weather forecasting company said winds will become stronger throughout the day. Sand storms are expected mostly in southern Israel, but possibly also in the central region.

It will start raining in northern Israel in the afternoon, and the rain system will move southwards to central Israel during the night.

Strong winds are expected on Tuesday that could reach up to 85 kph, mostly along the coast and in the mountainous areas. Snow is expected to fall on Mount Hermon, and it will rain in northern and central Israel, with flooding possible on coastal cities.

The weather will improve on Wednesday with the rain stopping in the afternoon.