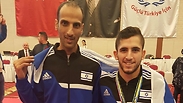 Taekwondo athlete Ron Attias will be Israel's first male Olympic competitor in the sport, after his performance at a qualifying tournament in Istanbul last Saturday.

Ron Attias receives his Taekwondo gold medal while Hatikva plays

Attias guaranteed his spot in Rio de Janeiro this summer after reaching the finals of the qualifiers, also winning the gold medal.

Attias won a silver medal in the European Taekwondo championships as a teenager and competes in the under-58 kilograms category.

He will be Israel's third-ever representative at the Olympics for Taekwondo, following Maya Arusi, who competed for Israel in the 2004 games in Athens and Bat-El Gatterer, who participated in the 2008 Beijing Olympic Games. Attias' victory brings the total number of Israeli athletes heading to Rio to 18.

Ramle Mayor Yoel Lavi praised Attias, who is a resident of and trains in the city, saying: "It's a great honor for the state, for Ramle and for its residents. Congratulations to Ron on his historic achievment."