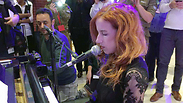 Thousands arrived in Jerusalem on Tuesday to celebrate the Knesset's 67th birthday, and mark 50 years to the inauguration of the Knesset building.

Knesset Speaker Yuli Edelstein read stories to children he hosted in his office, while other Knesset members showed off their non-parliamentarian skills.

Guests could watch MK Stav Shaffir (Zionist Union) and MK Bezalel Smotrich (Bayit Yehudi) play the piano, with Shaffir doing a rendition of the song "HaShir Al HaAretz" ("The Song of the Land") by Nurit Galron.

Stav Shaffir performs at the Knesset

MK Ayelet Nahmias-Verbin (Zionist Union) also wowed spectators with her singing, while coalition chairman Tzachi Hanegbi (Likud) took on MK Hamad Amar (Yisrael Beytenu) in a karate match.

MK Itzik Shmuli (Zionist Union) held a workshop about animal care, while MK Haim Yellin (Yesh Atid) taught a spinning class.

Knesset Speaker Edelstein said the "event emphasizes the central place the Knesset has in Israeli public life since the establishment of the state, and the way in which the Knesset building in Givat Ram has been significantly present in every event in the history of the state throughout its half a century of existence."

Other activities were held throughout the Knesset building during the day, including pedaling bicycles to create green energy, workshops on solar energy and recycling, the construction of a model of the Knesset building from LEGO, a sand artist making portraits, and visitors could also meet the Knesset's guard dogs.