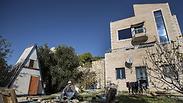 Airbnb listed house in the West Bank
Like many vacation rental operators around the world, Moshe Gordon has listed his property on Airbnb, luring visitors with a stunning vista of desert landscape and boasting of proximity to both Jerusalem and the Dead Sea. What it doesn't mention is that the "cozy fully furnished" apartment, with its cable TV, Internet and hiking trails, is in a West Bank settlement.

Airbnb is coming under Palestinian criticism for such listings, which some find misleading for failing to mention the property is on land claimed by the Palestinians. Such criticism puts Airbnb in the crosshairs of an increasingly aggressive global boycott movement and has injected a dose of Mideast politics into the sharing economy.

The Palestinians say that by contributing to the settlement economy, Airbnb, like other companies doing business in the West Bank, helps perpetuate Israel's settlement enterprise. Senior Palestinian official Saeb Erekat sent a letter to Airbnb's CEO last week demanding the company cease working with settlers.

"Any international company like Airbnb that profits from the occupation and from our blood must be held accountable and brought to justice," said Husam Zomlot, a Palestinian ambassador at-large and former adviser to Palestinian Authority President Mahmoud Abbas.

The complaint coincides with the release Tuesday of a report by Human Rights Watch that said that businesses operating in settlements contribute to and benefit from "an inherently unlawful and abusive system that violates the rights of Palestinians."

Israel captured the West Bank, the Gaza Strip and east Jerusalem in the 1967 war and began building settlements soon after. While Israel withdrew from Gaza in 2005, the settler population in East Jerusalem and the West Bank has ballooned to almost 600,000. The Palestinians claim these areas as parts of a future state, a position that has wide global support.

The Palestinians and much of the international community have grown impatient with Israel's settlement policies, saying the construction runs counter to the goal of establishing a Palestinian state alongside Israel.

On Monday, the European Union, Israel's largest trading partner, said that all its agreements with Israel must "unequivocally and explicitly" show that they cannot apply to territories over the Green Line. The move followed a November decision to label Israeli products made in the West Bank. Many Israelis fear the step could be a precursor to a full-fledged ban on settlement products such as wines, dates and cosmetics, which make up a tiny percentage of Israeli exports but would set an ominous precedent.

Also alarming to Israel has been an international movement calling for boycotts against settlement products or any company doing business in the West Bank. The so-called BDS movement claims responsibility for pressuring some large companies to stop or alter operations in Israel or the West Bank, including carbonated drink maker SodaStream, French construction company Veolia and international mobile phone giant Orange.

Although the boycott movement's economic impact has been minimal, it has helped tarnish Israel's international image.

While the Human Rights Watch report said it was not calling for a boycott, it urged businesses to cease their settlement operations. The report said Palestinian laborers in the settlements are often paid well below Israeli minimum wage, and that companies operating in settlements receive preferential treatment over Palestinian rivals. It followed repeated claims by World Bank and others that Israeli policy in the West Bank has stifled Palestinian development.

Israeli Foreign Ministry spokesman Emmanuel Nahshon rejected the report's conclusions as well as the criticism against Airbnb. "The Palestinians should stop whining and take their fate in their own hands and stop blaming Israel for their incapacity to build their own economy," he said.

In an email, Airbnb said it "follows laws and regulations on where we can do business." It said it encourages guests to talk to their host about the listing before any trip and that the platform uses Google Maps to determine locations - a website on which Jewish settlements, as well as Palestinian cities, are not listed with an affiliated country. Under its terms of service, Airbnb specifies that it will not accept responsibility for the accuracy of listings posted on the site, saying this lies with hosts.

Airbnb, which charges users a service fee, also has listings in Turkish-occupied Northern Cyprus and Moroccan-annexed Western Sahara, among other disputed territories. Listings there vary, with some marked only as a city, and others linked to Northern Cyprus or the unoccupied southern half. The few properties in Western Sahara are listed as in Morocco.

Owners of Airbnb properties in the settlements reject the criticism. Even though Israel has never annexed the West Bank, they see their communities as essentially part of Israel and point to biblical history as proof of the Jewish connection to the land. Unlike Palestinian residents of the West Bank, settlers are governed by the same laws as residents of Israel proper and vote in Israeli elections. They also enlist for compulsory military service, pay taxes inside Israel and can serve in Israel's parliament.

"It is Israel," said Gordon, who charges about $60 a night for his apartment. "I don't really understand the controversy here."

Settlements stretching the entire length of the West Bank play host to Airbnb properties, according to the site's listings. Tourists can overnight in a desert camp in Judea and Samaria, the biblical name for the West Bank, or in a yurt in the Tekoa settlement. A perusal of more than two dozen listings showed very few reviews, indicating limited business - which may also be connected to the fact that settlements periodically come under attack by Palestinian militants.

Settler officials say there is a blossoming lodging industry in the settlements that has until now mainly targeted Israeli tourists. But with Airbnb experiencing growing name recognition among settlers, Miri Maoz-Ovadia, a spokeswoman for the Yesha settler's council, said she expects more settlement properties on the site.

"International platforms such as Airbnb are very positive," she said. "Any of these platforms should be allowed ... to show also places that are here in the heartland of Israel."