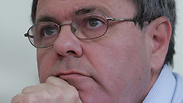 "The appointment of Dani Dayan as Israel's ambassador to Brazil was a mistake," said Marco Aurelio Garcia, a senior adviser to Brazilian President Dilma Rousseff, on Tuesday.

The comments represent Brazil's first official remarks on the matter of Dayan's appointment. Garcia, who was speaking in an interview on Brazilian television, also accused Israel of "disturbing the diplomatic protocol."

After noting that the appointment was a "mistake," Garcia continued: "By releasing Dayan's name ahead of time and before notifying the Brazilian government, Israel callously disrupted the political procedures between states/"

Garcia also mentioned that the former Israeli Ministry of Foreign Affairs spokesperson, Yigal Palmor, called Brazil a "diplomatic dwarf," leading to a sharp clash between the two countries.

Garcia's comments essentially shut the door on the prospects of Brazil approving Dayan's appointment. The Ministry of Foreign Affairs in Jerusalem has not yet responded to his statements.

Garcia, who accused Israel of genocide during Operation Protective Edge, noted that there is no arm-twisting between Israel and Brazil and that Israel is an ally with which Brazil has had excellent relations for many years.

Commentators say that with his comments, Garcia actually sent a message signaling that Brazil expects Israel to appoint someone else as ambassador, after which they can return to normal and continue strengthening the ties between the two countries.

Another senior official in Brazil expressed similar sentiments about a month ago. Carlos Marun, a member of the Brazilian parliament who initiated the opposition to Dayan's appointment, said "sending a settler leader to represent Israel in Brazil is an affront to our country.

"We cannot accept this provocation. It's like Germany sending a former concentration camp commander to Brazil as its ambassador, or like Chile sending a former prison guard from the dictatorship, or South Africa sending a torturer from the apartheid era."

Prime Minister Benjamin Netanyahu announced the appointment of Dayan, who is a former head of the Yesha Council, on August 5 of last year. His appointment was confirmed on November 6.

Brazil even sent messages to Israel via diplomatic channels, according to which President Rousseff was uncomfortable with his appointment given his status as a settler leader who himself lives in a settlement.

Netanyahu clarified to Dayan in recent weeks that he stood by his appointment and worked via several channels to persuade the Brazilians to give their agreement to his nomination.

Netanyahu also emphasized that if Brazil does not approve Dayan's appointment, Israel would not send an ambassador to the country.