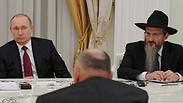 Putin with European Jewish Council members
Russian President Vladimir Putin on Tuesday called on European Jews who are facing anti-Semitism to move to Russia.

In a meeting with members of the European Jewish Congress, held in the Kremlin, Putin heard from congress president Dr. Moshe Kantor about the rise in anti-Semitism in Western Europe.

"They can come here," Putin said to Kantor. "During the Soviet era Jews would leave, but now they can come back."

"The situation of the Jews in Europe is the worst it has been since the end of the Second World War," Kantor said. "Jews are again living in fear and there is a very real prospect of an exodus of Jews from certain parts of Europe.

"There are more Jews who are escaping from France, which is thought to be very safe, than from the war in Ukraine."

The Pope visited Rome's main synagogue for the first time on Sunday, the place of worship for one of the oldest Jewish communities in the world, and condemned the violence that is carried out in the name of God.

His visit was intended as a show of interfaith solidarity at a time of proliferating violence across the world in the name of religion. The Pope was accompanied by heavy security throughout his time at the synagogue.

The Pope came out against all forms of anti-Semitism during his visit, calling to maintain "maximum alert" and to intervene early in places where anti-Semitism occurs, in order to prevent another Holocaust.