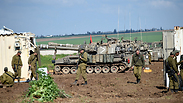 Artillery troops on the Gaza border
Photo: Haim Horenstein
In an unusual move, the IDF has deployed an artillery battery on the Gaza border after a recent incident of roadside bombs planted near the border fence, targeting IDF patrols.

The artillery forces were stationed next to the Gaza Division posts along the border.

Over the past seven years, the deployment of artillery batteries on the Gaza Strip's border were done mostly ahead of expected escalation in hostilities with Gaza. The artillery canons allow for a quick response to fire coming from the Strip.

Until Operation Protective Edge, there has only been measured use of artillery power on the Gaza Strip, due to the population density and the effort to avoid hitting innocent civilians. But the defense establishment now thinks the Artillery Corps have proven their effectiveness throughout the war in Gaza in the summer of 2014.

The IDF Spokesman's Office played down the deployment of the artillery troops along the Gaza border. "This isn't a reinforcement of forces, but rather a realignment of forces, as part of the defense routine and based on planning for the IDF's yearly operations. There are no special preparations made in the area."

Last Wednesday, the IAF attacked a terror cell that was planting explosives on the border fence in the northern Gaza Strip. The Palestinians reported on dead and three wounded in the attack.