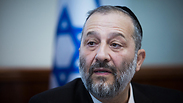 Interior Minister Deri
Photo: Flash90
Interior Minister Aryeh Deri, in a rare move on Thursday, revoked the residency of four terrorists who were responsible for the murder of four Israeli citizens.

Three of the residents - Walid Fares Mustafa Atrash, Mohammed Salah Mohammed Abu Keif and Mahmoud Abed Rabbo Dawiyat - hurled stones on Israeli vehicles on a major throughway near Jerusalem's Arnona neighborhood on Rosh Hashanah eve, causing the death of Alexander Levlovich, 64 - considered the first Israeli murdered in the current wave of violence.

Several weeks late, Bilal Ranem boarded bus line 78 in East Talpiot (Armon HaNetziv) with another terrorist and opened fire, murdering three Israelis - Haviv Haim, 78, and Alon Govberg, 51, and Richard Lakin, 76 - and wounding several others. His accomplice was killed at the scene of the attack.

The interior minister revoked their resident status based on section 11a of the the Citizenship and Entry into Israel Law.

"This is an usual move but the severity of the four's actions completely justifies my decision," Deri said. "When conducting these terror attacks, the assailants took advantage of the freedom of movement they enjoyed as part of their resident status."

Deri stressed that "the resident status includes within it basic commitment and loyalty. Residency, and certainly permanent residency, is a status that doesn't just entail rights, without any obligations, and as such, it also includes the obligations and commitments of those who hold it and wish to continue holding it."

There have only been four cases of residency being revoked due to the terror activity - over ten years ago the members of the Silwan terror cell lost their resident status, followed by four members of the Palestinian parliament, and finally a year and a half ago by an accessory to the terror attack at the Dolphinarium in Tel Aviv.