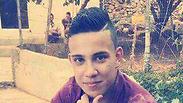 Mamoun el-Khattib, who attempted a stabbing attack in Gush Etzion
One of the most striking aspects of the current wave of terror has been the significant number of youngsters among the many lone attackers who have emerged over the last few months.

The most recent of them were Othman Shaalan, 19, who carried out the stabbing attack in Tekoa that wounded Michal Froman, and Morad Adais, 16, who murdered Dafna Meir in Otniel. The statistics show that a third of the terrorists who have carried out attacks in the current round have been under the age of 20.

The fact that these are young people who have undertaken a momentary decision that no one can predict is creating real problems for Israel's security establishment. But over the last few weeks the Palestinians have gradually started to understand that these children and teenagers are not serving any interest, except for their own.

As such the Palestinian Authority has started, on orders from above, to try and fight this phenomenon however possible, including arresting young people who have expressed a desire to die or who are behaving suspiciously.

These stories of foiled attacks aren't usually heard. But various Palestinian officials have, over the past few days, managed to give Ynet a rare glimpse into how the PA is attempting to tackle the phenomenon, as well as into the internal criticism against the glorification of martyrs that has sprouted in Palestinian society.
'Better to die in a terror attack than commit suicide from unrequited love'
The attackers' background stories reveal that most of them had severe personal problems that were not connected in the least to the Palestinian national issue. Some of them were abused children or teenagers, others were socially alienated, still others were experiencing unrequited love.

"A few days ago, Palestinian security operatives managed to get hold of a Palestinian youngster who they'd heard was preparing to carry out a terror attack," a source familiar with the details told Ynet.

"They caught the kid in Hebron's old city when he'd already armed himself with a knife and was on his way to carry out the attack. During his interrogation he was asked why he wanted to do it and he responded that was in love with a girl from Hebron, but her father didn't agree to their getting married."

According to the official, the youngster had decided that dying would be better than being alive, and if he was going to die better to do so as a national hero and not by committing suicide, which would bring shame on his family.

But that is not where the story ends. Hebron Governor Kamal Hamid had been made aware of the events and wanted to be sure that the same youngster wouldn't try to carry out another attack.

"The governor met with the father of the youngster and the father of the young woman the boy was in love with, and managed to convince them that the two should be married.

"The fathers agreed, the young couple was happy, and the governor of Hebron succeeded in preventing the same young man from dying and trying to kill others."

In another episode, Palestinian security officers were informed by a relative of a youth from Qalqilya that he had spoken about carrying out an attack. The boy's father is serving a life sentence in an Israeli jail. After extensive searching they managed to catch him, and during his interrogation it came out that he had asked his mother for money in order to buy a winter coat.

His mother replied that their financial situation was tough due to his father's imprisonment, and that she couldn't give him the money. The youngster told his interrogators that he suddenly realized that if this is how his life was going to be, then there was no reason for living. He therefore decided to carry out a terror attack in the knowledge that he would likely die.
Early detection: Schools raise alert about no-show pupils
These teenagers have not been sent by any terrorist organization, forcing the Palestinian authorities to try and find a method for detecting would-be attackers in time.

In some West Bank districts, schools to notify the district governor's officer by 8.30 every morning of any students that have not turned up for class. The governors' offices call the students' parents in order to check why their children are not at school and if the parents know nothing about it, the Palestinian authorities will search for and try to catch the youngster.

During a recent security coordination meeting, Palestinian officials expressed to their IDF counterparts their displeasure at soldiers seemingly shooting at terrorists to kill rather than to neutralize them, by firing at their lower body as directed. "The ones going out to commit attacks are children, after all," said one of the Palestinians.

A Palestinian official who is familiar with the topic said: "Organizational staff say to the youth, 'better that you go and throw stones during clashes – at Bab al-Zawiya (in Hebron – E.L.), next to Rachel's Tomb in Bethlehem, in Beit El.'

"How many children have been killed at these clashes? Two? Three? Is that not preferable to their taking a knife and going to their certain death?" the official continued.
The domino effect in the 'suicide capital'
While the Palestinians authorities' creative attempts to stop the next attacker have been ongoing, a related issue has emerged in Palestinian civil society. Over the past few weeks, more and more criticism has been heard of the phenomenon of suicidal young people and their lionization after their deaths. This glorification is creating a domino effect in which friends and family members of young terrorists are inspired to go out and commit revenge attacks.

The focal point of this phenomenon is the village of Sair, north of Hebron. Since the start of the current escalation, the village has created this same domino effect: 13 attackers have emerged from Sair, a number far out of proportion with its population size. Most of those attackers were members of the same family, and the village has come to be unofficially known as "the suicide capital."

A Sair resident who is firmly against the phenomenon told Ynet that a group in the village is trying different ways to stop it from snowballing further.

"Thousands of people came to the last funeral here, which took place a few days ago," he said. "Television crews were ready to film the funeral procession, which always features calls for vengeance and incitement.

"I approached the television crews and simply asked them not to film and broadcast these images, because they make an impression on the youngsters," he said. Nonetheless, he acknowledged, the next terror attack to come out of Sair is only a matter of time.

"I don't accept this version of events," said one Palestinian official after taking part in the same funeral. "When a young Palestinian is killed in a terror attack, they set up a mourning tent. Next to the tent they put a loudspeaker, which cries out non-stop: 'The heroic martyr, the heroic martyr!' They put up heroic pictures of the killed teenager with the Al-Aqsa mosque behind him.

"All the kids see and hear everything. What do you think it does to them? They're children who suddenly grasp how much respect their friend or cousin is getting, so they go out and commit the next attack," the official continued.

The fact that many parents know nothing of their children's intention to go and carry out a terror attack has made some of them realize that they have no real control over their offspring.

"When the two young terrorists (from the Manasra and Alqam families – E.L.) went to carry out stabbing attacks in East Jerusalem I decided I'm not taking any more risks," said a Palestinian laborer in East Jerusalem.

"I said to myself that it's better for my son, who is 14, to miss a few days of school and stay alive. So for a few days in a row I took him with me everywhere, from the moment he woke up in the morning until the moment he went to sleep at night.

"Yes, he sat at a building site with me and did nothing. The point is that the whole time he was in my line of sight. And that continued until things calmed down a little in East Jerusalem, and he went back to school."