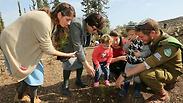 Planting trees for Tu Bishvat
Photo: Yossi Zamir, KKL
KKL-JNF's tree planting events for Tu Bishvat were held earlier, on Friday, in two forests in northern and central Israel. On the day of the actual holiday, Monday, stormy weather has been forecasted, which will put a damper on mass planting.

About half a million plants from KKL-JNF's three nurseries were sent all over the country over the past few days to celebrate the New Year of the Trees.


Among the trees that were planted and will be planted for the holiday are mastic (pistacia lentiscus), rosemary (rosmarinus officinalis), retama, almond (prunus dulcis), myrtle (myrtus), pine, terebinth (pistacia palaestina), Mt. Atlas mastic tree (pistacia atlantica), chastetree (vitex), oak (quercus infectoria), carob (ceratonia siliqua), bay laurel (laurus nobilis), oleander (nerium), cedar (cedarus), and moort (eucalyptus platypus).

According to KKL's foresters, each of the trees was planted in an area with conditions suitable for it to thrive.

Thousands of families arrived on Friday morning to KKL's planting sites in Tsir'a Forest near Beit Shemesh, and Lavi Forest in the lower Galilee and to KKL's nurseries at Golani Junction, Eshta'ol and Gilat.

"Many children, teenagers and adults came to plant trees with us," said Eshta'ol area forester Itamar Dror. "It's heartwarming to see families planting trees together and children being exposed to messages of love for the land of Israel and environmental protection. In the coming years, we, the KKL foresters, will make sure to look after the young forest plot that was planted today until the trees set their roots into the ground and it becomes a strong and independent forest."

At the Lavi Forest, 300 bereaved families of IDF soldiers took part in an emotional ceremony, with the children planting trees to commemorate their fallen parents.

"The best way to commemorate the dead is to sanctify life," said KKL director Danny Atar at the event. "This forest, which commemorates people who sacrificed their lives for the state, creates life through nature. I'm sure it will be filled with hikers, families and children who will enjoy it and in doing so will honor the memory of the fallen in the most beautiful way possible."

The head of the KKL's northern Israel nursery said the plants were chosen particularly for urban planting. "In a way that ensures the least amount of water needed, the cooling of temperatures in cities, and improving the quality of life in the urban environment. This was based on the recommendations of KKL's agronomists, and came alongside instructions to residents and students on how to plant on their own and how to continue treatment of the young plant."