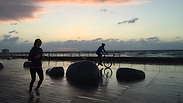 Before storm at Tel Aviv Port
Three days of rain, strong winds, and snow in the Golan, the mountains of the center, including Jerusalem and possibly the Negev mountains are about to hit Israel starting Sunday night.
The storm's peak is ahead of us and the emergency teams are preparing accordingly. Magen David Adom, the Israel Electric Corporation and firefighting and rescue services have evaluated the situation ahead of the expected storm in order to overcome the snow that may block roads and rescue injured people to hospitals. At 6:00 am Sunday an announcement will be published regarding school openings in the Golan Heights. Safed will make its decision at 6: 30am.
Saturday overnight wind gusts are expected of up to 70 kph and wave heights may reach 7 meters. Sunday winds will strengthen and reach 80 kph.
The meteorologist Dr. Baruch Ziv said that "it will not be a horrible storm. Rain amounts will not be exceptional; there's a chance of snow in the north, and perhaps also in the Negev Highlands. Winter storms of this kind occur from time to time, and in the meantime this winter has not been so extreme. If you look at what is happening in the United States, you will realize that our storms are child's play and that we are not in such bad shape at all."