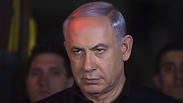 Two thirds of Israelis unhappy with way Netanyahu handling terror wave
Channel 2 poll finds that only 11% think the prime minister is most suitable to handle ongoing wave of violence, while 30% think Lieberman is the man for the job, 15% want former IDF chief Ashkenazi to deal with Israel's defense and 13% think it should be Bennett.
Two-thirds of Israelis are not happy with the way Prime Minister Benjamin Netanyahu is handling the ongoing wave of terrorism, according to a poll ordered by Channel 2.

The poll, conducted for Channel 2's Meet The Press, found that 68 percent of Israelis are unhappy with the steps the prime minister has taken in an effort to quell the violence, while only 28 percent said they were happy with the prime minister. Four percent did not know or declined to respond to the question.

The poll also found that a third of Israelis (30 percent) believe Yisrael Beytenu leader Avigdor Lieberman is the right man to handle Israel's security and terror problems. Fifteen percent think former IDF chief Gabi Ashkenazi is the man for the job, while 13 percent believe Bayit Yehudi leader Naftali Bennett is best suited to deal with matters of security.

Only 11 percent said Netanyahu is best qualified to handle Israel's security, while Opposition leader Isaac Herzog only got five percent of support on that issue.

The ongoing wave of terrorism, which began in early October and included mostly stabbings but also vehicular and shooting attacks, claimed the lives of 28 Israelis.

The poll was conducted by pollsters Dr. Mina Tzemach and Mano Geva of and the Midgam Institute for the IPS Institute for Policy and Strategy and Ipanel, among 501 respondents who represent the adult population in Israel, including from the Arab sector.