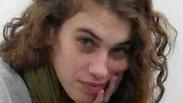 Woman stabbed in terrorist attack in Beit Horon succumbs to her wounds
Shlomit Krigman, a 23-year old woman from Shadmot Mehola in the West Bank died and was laid to rest in Har Hamenuchot in Jerusalem; 2 terrorists attacked 2 women outside settlement's grocery store; another woman was moderately wounded; security guard shot and killed them.
Shlomit Krigman, a 23-year old woman from Shadmot Mehola in the West Bank, stabbed in a terror attack in Beit Horon Monday, died of her wounds Tuesday morning and was laid to rest in Har Hamenuchot in Jerusalem.
Hadassa Medical Center said that "despite the efforts of medical staff and efforts to stabilize her condition, we were forced announce her death this morning." There has been considerable improvement in the condition of the other woman wounded in the attack. She is 58 and is hospitalized in Shaare Tzedek Medical Center in Jerusalem.
Shlomit is survived by her parents, Naama and Yitzhak, and six siblings. Recently she completed a bachelor's degree in industrial design at the University of Ariel.
The settlement of Beit Horon issued a statement on "the death of Shlomit Krigman, murdered by vile terrorists. Shlomit was loved and known to all; she served as a Bnei Akivah youth group coordinator during her national service. During the past year she lived with her grandparents in the settlement of Beit Horon".
Hundreds attended her funeral at Har Hamenuchot in Jerusalem. Her teacher at Ariel University eulogized her and said that "she was open to the world and she was full of curiosity. She was interested in many fields. It all came to an end in an instant. A young woman whose life was cut short."
The attack happened on Monday afternoon, when two terrorists stabbed two women and planted home-made bombs outside a grocery store at the settlement of Beit Horon. A security guard shot and killed both of the attackers.
Security forces found three home-made bombs in the vicinity of the store, apparently planted there by the terrorists, and a bomb squad was called to the scene to neutralize them.
The terrorists - Ibrahim Alan, 22, from Beit Ur al-Tahta near Highway 443, and Hussein Abu Ghosh, 17, from the Qalandiya refugee camp, who is affiliated with Hamas - came into the settlement from the nearby wadi, jumping over the settlement's fence.
According to Motti Shalem, who worked at the grocery store at the time of the attack, "the two terrorists came from the direction of the fence, and must've breached it and got in. Then they stabbed a woman on the sidewalk, and another at the parking lot, and then tried to enter the store. Me and another guy pushed them back with a supermarket cart, and then they ran, and were shot by the security guard."
Motti Shalem fights off attackers
Kriegsman was critically wounded, and taken to the Hadassah Medical Center in Jerusalem's Mount Scopus, while the other, 58 years old, was moderately wounded and taken to Shaare Zedek Medical Center in the capital.
Following the attack, Beit Horon's residents were ordered to stay inside their homes and close their doors and windows. The IDF has set up roadblocks in all access ways to Beit Ur al-Tahta, the home of one of the terrorists, only allowing people in and out after a security check.
President Reuven Rivlin issued a statement following the attack, saying: "My thoughts and prayers are with those wounded and fighting for their lives after the severe terror attack at Beit Horon. These difficult times are fraught with confrontation and we will overcome. We will continue to fight against terrorism and the incitement which drives it. In the face of terror, we choose life."