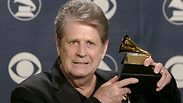 Is Brian Wilson heading to Israel? According to an announcement published on his official website on Monday, the former Beach Boys lead singer is planning to embark on a world tour to mark 50 years of making music, which will include the Holy Land.

The tour will kick off in the United States in March, before visiting Japan, Australia, the UK, Spain and Portugal – and it seems that Israel is on the list too.

Brian Wilson is one of music history's most important artists. In the 1960s, he founded the Beach Boys and was their lead singer. After the group split up, he embarked on a successful solo career, despite severe personal problems.

Wilson continues to make music to this day. His 11th and most recent album, "No Pier Pressure," came out last year.