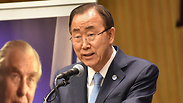 Ban Ki-moon
Photo: Leo Sorel
UN Secretary-General Ban Ki-moon claimed on Tuesday that Palestinian violence is the result of "frustration," asserting that "it is human nature to react to occupation, which often serves as a potent incubator of hate and extremism."

"Palestinian frustration is growing under the weight of a half century of occupation and the paralysis of the peace process," Ban told a UN Security Council meeting on the Situation in the Middle East.

"Sadly, 2016 has begun much like 2015 ended – with unacceptable levels of violence and a polarized public discourse across the spectrum in Israel and the occupied Palestinian territory," he said.

"Stabbings, vehicle attacks, and shootings by Palestinians targeting Israeli civilians – all of which I condemn — and clashes between Palestinians and Israeli security forces, have continued to claim lives."

Ban leveled harsh criticism at Israel for its policies in the West Bank. He claimed that "security measures alone will not stop the violence. They cannot address the profound sense of alienation and despair driving some Palestinians – especially young people."

He called for "The full force of the law to be brought to bear on all those committing crimes – with a system of justice applied equally for Israelis and Palestinians alike," and warned that "So-called facts on the ground in the occupied West Bank are steadily chipping away the viability of a Palestinian state and the ability of Palestinian people to live in dignity."

The UN chief claimed in his speech that Israel must change its policies particularly in Area C, and called to halt the demolition of Palestinian homes in those areas.

"Approvals of master plans for Palestinian sectors of Area C would allow for much needed growth in these areas and prevent demolitions," he said, adding that "progress towards peace requires a freeze of Israel's settlement enterprise."

Ban speaks at the UN Security Council

He slammed continued settlement construction, calling it "an affort to the Palestinian people and to the international community," and stressing that "They rightly raise fundamental questions about Israel's commitment to a two-state solution."

Ban went on to criticize Israeli plans to seize lands south of Jericho by declaring 370 acres in the area "state lands," and urged the Israeli government to go back on the decision.

"These provocative acts are bound to increase the growth of settler populations, further heighten tensions and undermine any prospects for a political road ahead," he said.

Ban also said he was "deeply troubled" by reports that the Israeli government had approved plans for more than 150 new homes in "illegal settlements in the occupied West Bank."

The Palestinians want an independent state in the West Bank, Gaza and East Jerusalem, areas Israel captured in the 1967 Six-Day War. The last round of peace talks broke down in April 2014 and Israeli-Palestinian violence has surged in recent months.

On the other hand, Ban also criticized Palestinian incitement to violence, saying that "incitement has no place, and questioning the right of Israel to exist cannot be tolerated."

He also discussed the situation in Gaza, saying the situation there remains perilous as "the people of Gaza face dire unemployment, water and electricity needs," but condemned "the continuing rocket fire into Israel from militant groups in Gaza."
Palestinian envoy urges action against settlements
The chief Palestinian delegate at the United Nations, Riyad Mansour, called on the Security Council take action against Israeli settlements.
"It must involve measures by all states and go beyond not rendering aid or assistance to holding Israel accountable for its actions," Mansour told the council.
Mansour later told reporters that all 15 council members acknowledged that Israel's settlement building is "the main obstacle to any meaningful political process," and he said the Palestinians are meeting with all council members to assess their readiness to act this year.
US Ambassador to the United Nations, Samantha Power, said Washington strongly opposes settlement activity.
"Steps aimed at advancing the Israeli settlement program ... are fundamentally incompatible with the two-state solution and raise legitimate questions about Israel's long-term intentions," Power told the council.
French Ambassador Francois Delattre said the international community should create a "specific and credible political horizon" for a solution to the tensions in the region.
Chinese Ambassador Liu Jieyi said Israel should take the lead in calming tensions, and he said the Security Council "should seriously consider the question of providing international protection to the Palestinian people." He gave no details, but Mansour said new council member Egypt would take the lead in exploring that issue.
Danon: Terror in Israel - business as usual for UN
Israel's Ambassador to the UN Danny Danon responded in kind by criticizing the UN Security Council. "For the council it is business as usual when we're talking about terrorism in Israel," he said.
"The facts don't lie, the council is hypocritical in its attitude towards Israel," Danon claimed. "For the last four months, since the wave of terror began in Israel, the council has issued 12 resolutions against world terrorism, and zero resolutions against Palestinian terrorism in Israel."
Danon also addressed Palestinian incitement, telling the council about the 15-year-old killer of Dafna Meir, a mother of six murdered outside her home in Otniel. In his interrogation, Danon said, the terrorist admitted to being influenced by incitement on Palestinian television.
"The root of the recent wave of terror is Palestinian incitement," Danon determined. "Monetary payments to the families of terrorists, honorary degrees to terrorists who murder women and using toys as tools of incitement, these are the workings of the Palestinian leadership, and the Security Council must condemn them immediately."
Danon also stressed that "The road to peace is long and difficult but Israel is committed to make every effort."
Danon did not address settlement-building. He instead showed reporters what he called "terror dolls" that he said are used to teach hatred to Palestinian children.
Prime Minister Benjamin Netanyahu also slammed Ban's comments. "The UN Secretary General's remarks give a tailwind to terrorism. There is no justification for terrorism. The Palestinian murderers do not want to build a state – they want to destroy a state and they say this openly. They want to murder Jews simply because they are Jews and they say this openly. They do not murder for peace and they do not murder for human rights."
"The UN lost its neutrality and moral force a long time ago and the Secretary General's remarks do not improve the situation," Netanyahu added.
Reuters and the Associated Press contributed to this report.