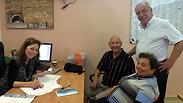 Holocaust survivors at one of the NGO's centers
Giving hope to Holocaust survivors
A special initiative was launched to help Holocaust survivors to receive all of the rights and benefits they deserve - at no cost. 'We must not wait for the survivors to turn to us, it's our moral duty to find them and make sure they get everything they need to live in dignity and welfare.'
Heniya Keltch, a 71 year old Holocaust survivor living in Kiryat Yam, was born two months after the end of World War II. Her parents survived the Holocaust along with their two children by hiding at the home of a Polish family.

Heniya says she spent her childhood in the shadow of her parents and siblings, who survived the Holocaust but remained scarred in body and soul. When she grew up, she married Aryeh, also a Holocaust survivor.

And then, one newspaper article Heniya saw last April changed her life. According to the article, there were cases in which even those who were still in uterus during World War II, while their mother was persecuted, and were born after the end of the war, were eligible to be recognized as Holocaust survivors and get aid from the Aviv LeNitzolei HaShoah NGO in receiving all of the rights granted to Holocaust survivors.

As soon as she finished reading the article, Heniya called the NGO's helpline and spoke to Attorney Liora Zamir, who told Heniya there was a good chance she was eligible to receive rights granted to Holocaust survivors. Zamir invited Heniya to come to the NGO's Haifa "rights center" so she could receive further help.
Caring and professional treatment
The process for Heniya to be recognized as a Holocaust survivor was not a simple one, and lasted several months - during which Heniya was asked to obtain and provide many documents.

"I was despaired and wanted to give up," Heniya says, "But attorney Liora Zamir would not let me. She fought like a lioness for me, dealt with state officials, and encouraged me. It's only thanks to her caring, devotion and professional treatment, that I was recognized as a Holocaust survivor."

Heniya received an initial minimum stipend of NIS 2,200 a month, as well as the rest of the rights and benefits granted to Holocaust survivors, but this was not the end of it.

Attorney Liora Zamir also filed a request to a medical committee on Heniya's behalf to increase her disability rating and a request for increased benefits based on the level of income. The requests were approved and Heniya's yearly stipends increased significantly - almost doubled.

For Heniya and Aryeh, Holocaust survivors who have so far lived solely off Aryeh's pension, this has been a significant improvement to their economic situation.

"When I was recognized as a Holocaust survivor, it was a load off my mind. I had a lost childhood and no one recognized the suffering I've been through. This stipend helps us economically and I can even give some money to my grandchildren, which I couldn't do before," Heniya says.

Like Heniya, hundreds of other Holocaust survivors were able to significantly improve their quality of life thanks to a joint initiative by the JDC-Eshel and the Aviv LeNitzolei HaShoah NGO, who established "rights centers" - centers aiding Holocaust survivors in getting the most out of their rights within their communities.

So far, 14 such centers have been established across the country with the help of local authorities. At these centers, Holocaust survivors and their family members can receive professional counseling from an attorney specializing in rights for Holocaust survivors. These legal experts accompany the survivors throughout the entire process, until they receive all the rights and benefits they deserve by law. The service is provided pro bono.
Bleak and incredible situation
The Aviv LeNitzolei HaShoah NGO and JDC-Eshel recently conducted a customer satisfaction survey among Holocaust survivors who turned to their "rights centers." In addition to the fact that 90 percent of respondents said they were very happy with the professional treatment they received, the survey also revealed a situation that is both bleak - due to the lack of awareness among Holocaust survivors - and on the other hand, incredible - due to the aid Holocaust survivors received in making the most of their rights and benefits.
Some 1,800 Holocaust survivors enjoyed the initiative's services so far.
85 percent of all Holocaust survivors who arrived at the centers were not making the most of their rights and benefits, and the NGO's advisors had recommendations for them on how to improve their situation.
50 percent of the Holocaust survivors who participated in the survey reported that they have already received monthly stipends and benefits they have not received before, and say the help they received at the centers improved their lives "significantly."
An additional 17 percent said the process was still ongoing, while 20 percent refused to share the result of the process.
For every one shekel invested in the initiative, Holocaust survivors received 18 shekels worth of benefits.

'Service provided with love and professionalism'
"The finding that stood out the most is the fact that among the respondents, 85 percent actually learned at the center that they are not receiving all of the rights and benefits they are entitled to by law as Holocaust survivors," says Aviva Silverman, the founder and director of Aviv LeNitzolei HaShoah.
"This is a finding which shows how much there's a lack of awareness among the survivors: They're unaware of their right to request that a deterioration in their health is recognized, they're unaware of benefits and grants given to them by other countries, and are not updated with the variety of changes and updates to their rights.
"For half of the survivors who arrived at the centers - the aid led to a significant improvement in their quality of life. There were survivors whose requests were rejected in the past and this time thanks to our help these requests were approved. There were those who thought they were getting all of their rights and were surprised to learn they were wrong. There were survivors who turned to lawyers in the past who charged a lot of money to send one form - and found there are those who provide this service with love, professionalism, and without pay."
Attorney Silverman says that one of the biggest successes of these centers was in 2015, when 20 Holocaust survivors aided by the NGO received retroactive pension payments from Germany for their work in the ghetto, reaching a total of NIS 2.5 million.
According to the German ghetto law, the ZRBG, German old age pension should be paid to anyone who lived in the ghetto and worked for any kind of payment at the time, whether monetary, food, or any other way.
Pension from Germany for work in the ghetto
Gila, an 84 years old Holocaust survivor from Bulgaria who is suffering from dementia, is one of the survivors who received the German pension thanks to the help she received at one of the centers. Until getting the NGO's help, she lived off a stipend of only NIS 2,700 a month.
Ronit, Gila's daughter, turned to the Holocaust Survivors' Rights Authority with a request to recognize her mother's dementia and raise her disability rating, but the request was rejected because Gila did not live in the ghetto.
Ronit then turned to the "rights center" in Kfar Saba, where she met with advisor Linda Levy, an expert on Holocaust survivors' rights with the Aviv LeNitzolei HaShoah NGO, who came to her help.
Linda's research found that the area where Gila was living during World War II was within a known area of the Sofia ghetto. She filed a new request to the Holocaust Survivors' Rights Authority and provided documents confirming Gila was indeed living in that area of the ghetto.
Linda also filed a request on Gila's behalf to receive increased pension payments based on income, and later, Linda updated Ronit that Gila was also entitled to receive a pension from Germany for her work in the ghetto, and filed a request to that end as well.
Several months later, the Holocaust Survivors' Rights Authority approved increased pension payments for Gila, and also recognized her dementia and approved the increase of her disability rating. Now, Gila gets NIS 4,500 every month - in addition to her NIS 2,700 stipend.
Meanwhile, Germany also approved the request for pension payments for Gila's work in the ghetto, and she received a retroactive payment of 15,000 euro. She is also getting an 80 euro stipend from Germany every month. The significant increase in her monthly stipends and the payment she received from Germany help Gila's family pay for the nursing home she lives in and for the care she needs.
According to Yossi Hayman, the director of JDC-Eshel, "many resources are invested nowadays in aiding Holocaust survivors, but unfortunately these resources don't always get where they should due to limited accessibility. The initiative's goal is to help thousands of Holocaust survivors and make it easier for them to receive all of their rights, with the process being done within the community, by lawyers who are experts in the field.
"JDC-Eshel and the Myers-JDC-Brookdale Institute's yearly report shows that every year, some 10,000 Holocaust survivors pass away. Therefore, if we really want to help Holocaust survivors - we must act immediately."
Attorney Silverman adds: "The cooperation with JDC-Eshel and the municipalities allows us to reach Holocaust survivors at their communities and work with the proper authorities to provide them with different rights and benefits that for the survivors could be the difference between poverty and life in dignity.
"Currently, we have 'rights centers' in Kiryat Yam, Acre, Haifa, Kfar Saba, Hod HaSharon, Raanana, Givat Shmuel, Bnei Brak, Ramat Gan, Givatayim, Bat Yam, Rishon Lezion, Ashdod, Modi'in and Tel Aviv.
"This year we're hoping to raise donations that would allow us to buy mobile 'rights centers' that could reach Holocaust survivors who are housebound, or in small communities where there are no 'rights centers'. We must not wait for the survivors to turn to us - our moral duty is to find them and make sure they receive everything they deserve, and allow them to live in dignity and welfare."
All of the most up-to-date rights can be found in Israel and abroad on the Aviv LeNitzolei HaShoah NGO's website .