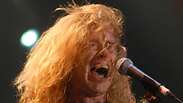 Heavy metal lovers in Israel have cause for celebration after genre giants Megadeth announced that they would play a live show in the Holy Land this summer.

Megadeth in concert

The July 2 show at Rishon Lezion's amphitheater will be Megadeth's fifth appearance in Israel. The band was due to play in the country in summer 2014, but had to cancel their performance due to Operation Protective Edge.

Ticket prices start at NIS 349 (with some initially going for NIS 299 for a limited period), and go up to NIS 549 depending on where the seats are located.

Megadeth is one of the oldest and most important bands on the American metal scene. Since the group was founded at the beginning of the '80s by singer Dave Mustaine, they have recorded several seminal albums in the genre, including "Countdown To Extinction," "Rust In Peace," "Peace Sells…But Who's Buying?" and more.

Mustaine himself is thought of as an Israel supporter, and has several lyrics against Islamic terrorism.

This will be Megadeth's first show in Israel since 2011, when the country was a stop on their "Endgame" world tour.