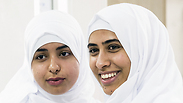 Palestinian nurses working in an Israeli hospital
Statistics for 2015 indicate that over 8,000 new participants visited the 20 employment centers set up for the Arab, Druze, and Circassian populations throughout Israel. According to the figures released by the Ministry of Economy, 13,600 people have found employment through the centers and 24,000 have received assistance.

In total, 68% of those who visited the Ministry of Economy's Arab employment centers found work. This percentage far exceeds the government targets which had aimed for 56% over the three-and-a-half years since the centers were established in 2012.

Various programs offer assistance to the minority groups with the aim of helping them find employment. The Imtiaz program, for example, assists people up to the age of 35 with admission to academic studies specializing in fields in high demand, such as physics, electrical engineering, computer science, medical laboratory science, civil engineering, transportation engineering, chemistry, dentistry, medicine, mathematics and more.

Concluding its first year at the end of 2015, the program offered 74 courses, including academic Hebrew, in order to encourage the integration of Arab communities. Last year, 1,313 individuals participated in Imtiaz while 354 people completed their courses.

The high success rate received an extra boost by a three-year program with a budget of NIS 10 million designed to integrate Arab academics into hi-tech. The program in its first year ensured the placement of 250 Arabs at leading companies, such as Amdocs, Intel, IBM and HP. Over 100 new Arab students enrolled in courses such as application development as part of the initiative.

Eshbal, another program established to assist the Bedouin population in the south, provides full funding for the study of engineering and also covers the cost of living expenses and travel until graduates find employment. A total of 85 male and female engineers began their studies this year as part of the program at a total cost of NIS 40,000 per participant.

The initiative did not merely focus on providing academic credentials, but also on providing improved means of transportation for Arabs living in remote areas and for women in particular. For example, the Ministry of Economy and the Ministry of Transportation made a joint investment of NIS 48 million towards the construction of eight new routes and the updating of 23 bus lines.

"This is a permanent and long-term solution to the difficulty caused by the lack of sufficient public transportation services from remote Arab communities to workplaces," a Ministry of Economy spokesperson said.

Eastern Jerusalem, however, still requires improvement. Statistics show that 60% of eastern Jerusalem residents are unemployed. A Ministry of Economy spokesperson explained to Tazpit Press Service (TPS) that the high rate of unemployment in this sector was due to a lack of basic Hebrew among many of the Arab residents and that the state is seeking to remedy the situation.

The spokesperson said that eastern Jerusalem residents complete the Jordanian-Palestinian matriculation program in Arabic before seeking admission to higher education or employment, which leaves them with very poor and sometimes non-existent Hebrew language skills.

"This represents a significant barrier for these residents who are looking to enter the workforce as they must first study spoken and written Hebrew. Hebrew and English language courses are among those offered to participants attending the east Jerusalem employment center in an attempt to address this issue," the spokesman told TPS.