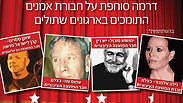 'Foreign agents in culture'
Right-wing NGO accuses Israeli artists of being 'foreign agents'
After targeting foreign-funded left-wing NGOs, Im Tirtzu returns with new campaign against the likes of Amos Oz, David Grossman, Gila Almagor and Yehoshua Sobol, accusing them of being 'plants in the cultural world' who are seeking to undermine the state.
Right-wing organization Im Tirtzu, which campaigned against foreign-funded NGOs, has broadened its assault to include left-wing artists on Thursday, accusing authors such as Amos Oz and David Grossman of disloyalty to the country.
In posters published online and on its Facebook page, Im Tirtzu takes aim at what it calls "foreign agents in the cultural world," accusing Israeli actors, writers, directors and other "intellectuals" of obstructing the government's mission.
"They are members of foreign agent organizations operating with foreign government funding ... against the State of Israel," it says, naming around 100 people from the worlds of cinema, theater, publishing and television.
It published on Facebook the names of several dozen "cultural people" listed on the websites of left-leaning charities and non-governmental organizations as serving as members of their boards or public councils.
The posters follow a video campaign launched late last year in which Im Tirtzu accused the heads of several high-profile Israeli NGOs, including Breaking the Silence, of being foreign-funded "agents" bent on undermining the state.
Im Tirtzu's offensive takes place amid deepening left-right divisions in Israel, with government ministers frequently critical of the arts and advocating a more religious-nationalist agenda.
Culture Minister Miri Regev, a member of Prime Minister Benjamin Netanyahu's Likud party, has proposed cutting government funding for any theater or arts institution whose programs "subvert the state". Education Minister Naftali Bennett wants to introduce a civics textbook in schools that critics say reinterprets history with political bias.
McCarthyism
Opponents of Im Tirtzu have accused its leaders of a cultural witchhunt, akin to US Senator Joseph McCarthy's much-vilified campaign in the 1950s to expose Communist sympathisers in the United States, including in Hollywood and the arts.
Commenting on Twitter, one of Im Tirtzu's founders appeared to defend McCarthyism, writing: "The historical details revealed that in most cases, he was correct."
"This is incitement, but I'm in good company - David Grossman, A.B. Yehoshua and Chava Alberstein," actress Gila Almagor told Ynet on Thursday. "I am proud that I supported human rights and will continue to do so. As long as I am able to think, I will support human rights. What is this, the thought police? What is going on here? What a disgrace."
Playwright Yehoshua Sobol, who is also featured in the campaign, called on legal authorities to outlaw Im Tirtzu.
"There's no nicer image for artists and creators – 'planted,' as they are indeed trees planted by streams of water whose roots go down deep into the secrets of the language and spread out to the nation's culture for generations. It seems that those at Im Tirtzu don't have even grassroots, and they are not planted - not in the Hebrew language, not the history of the Jewish resettlement in Israel, not in the soil of the country and not in the world of culture and morality of the Jewish people throughout history," Sobol remarked.
"They are the distorted result of the dark and evil times in which we live. But the state's institutions of law and order should not wait for the wind to remove this chaff. It is the role of the attorney general to deal with them, and it is the role of the Knesset to remove this destructive organization to the place the prophet Isaiah set aside for them: 'Your destroyers and those that made you a waste shall go forth from you' (Isaiah 49:17)," Sobol added.
Rivka Michaeli, an Israeli actress and TV hostess, told Ynet that "I'm not speaking for God, I speak on behalf of people because I think that those who talk in the name of God debase Him as his ways are unknown. We can serve God in one way or another, to approach Him, pray to Him, ask for His mercy. We cannot act on His behalf. Im Tirtzu are sure that they are the word of God and they are not."
Regarding the other Israeli artists on the list, Michaeli said: "I think that I am in a very distinguished company. I'm really moved to be grouped with Amos Oz, David Grossman and Yehoshua Sobol. I thought, 'Here's how it begins', when fascism began in countries that I would rather not mention - this is how it starts. This is denunciation and branding. I expect there to be a great awakening, that it will not blow over so quickly. I really would like the prime minister to intervene and say 'that's enough' ... I'm afraid for Israel and the wonderful society that was founded here; it's a society that has lost its 'Isrealiness,' that has become more disapora-like, paranoid and unjust."
Playwright Edna Mazia pointed an accusing finger at the Culture Ministry. "The problem is not these psychos with their ridiculous campaign. It is not worthy of a response and I don't care about that at all. What is serious is the trend in the Culture Ministry; this is the ground on which they are planted and allows them to grow - the legitimacy they get from Knesset members, ministers, the prime minister, the coalition and the opposition - the people who lead us. They let it happen. It seems it's no coincidence that Culture Minister Miri Regev chose to go to the premiere of 'Evita' out of all other shows. Apparently she thinks she could learn a thing or two from Eva Peron."
Condemnation from across political spectrum
Im Tirtzu was once regarded as a fringe group, but has increasingly close ties to members of Netanyahu's government, particularly the Bayit Yehudi party led by Bennett.
Bennett and Justice Minister Ayelet Shaked, author of the NGO bill and a member of Bayit Yehudi, were quick to distance themselves from Im Tirtzu's latest outburst.
Bennett called the campaign "embarrassing, needless and disgraceful."
Shaked told Army Radio: "It does not serve any agenda and I do not think this is a proper campaign. I do not think these artists who hold salient left-wing views should be considered plants. Not everyone who is on the left should be demonized, certainly not."
Prime Minister Benjamin Netanyahu also came out against Im Tirtzu's campaign. "I am opposed to labelling as a 'traitor' anybody who (holds opposing views to the mainstream). We are a democracy and there is a multitude of opinions," he told Israeli reporters travelling with him during a working trip to Cyprus.
Yesh Atid party leader Yair Lapid, who has been fiercely critical of Breaking the Silence, also criticized the campaign, saying that the extremists have gone out of their minds.
"David Grossman, who is a grieving father of a son who was killed during the Second Lebanon War, and Rivka Michaeli, are traitors?" Lapid asked. "Amos Oz is a plant? Gila Almagor, Sami Michael and Shaanan Streett are spies?
"This isn't a matter of politics. Every rational person – on the right or on the left – needs to come out against this ugly, inciting, dividing and violent campaign," Lapid continued. "Im Tirtzu's campaign of hatred and incitement to violence crosses a red line."
Likud MK Benny Begin slammed the campaign, which he said was "an attempt to implant in the mind of the public the words 'plants' or 'moles' as synonyms of 'traitors.' Searching, finding, and labeling so-called 'traitors' is an old characteristic of fascism, it's ugly and it's dangerous."
Zionist Union MK Tzipi Livni argued that "those who don't know how to fight enemies from without - create enemies from within. We won't allow for the State of Israel to become a country that persecutes its own inhabitants. Im Tirtzu is destroying Israel from within and isolating it from without - led and sanctioned by the government."
According to Im Tirtzu, its members started working on their report on the "planted" artists after discovering that artists' involvement in leftist organizations was increasing. They argue that this activity is part of a slanderous attack by creators and artists against Miri Regev, which has been ongoing since she was appointed culture minister.
"We are tired of financing artists who support organizations that are plants," Im Tirtzu said in a statement. "It shows contempt for the State of Israel and its values."
"Every time the public representatives in the State of Israel try to fulfill the mission they were tasked with by the people in the most legitimate and democratic manner, we encounter an automatic smear campaign from these 'artists' who try to portray themselves as enlightened, progressive and those who 'know better' than the entire public," said Im Tirtzu director Matan Peleg.
"The problem is that these people neglect to mention the fact they're members of 'plant organizations' operating with foreign funding and the New Israel Fund against the State of Israel."
Ran Boker, Merav Yodilovitch, Ami Friedman and Attila Somfalvi contributed to this report.