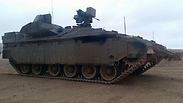 Namer APC with 'windbreaker' system installed
The Defense Ministry's Merkava Tank Administration on Thursday unveiled the first Namer armored personal carrier (APC) with the new "windbreaker" active defense system installed.

Namer APC with the new 'windbreaker' active defense system (באדיבות מנת"ק במשרד הביטחון)

The "windbreaker" active defense system was developed by Rafael and has so far been used with Merkava 4 tanks, proving its efficacy in dozens of operational activities and especially during Operation Protective Edge.

The system can quickly, automatically and independently identify the firing of anti-tank missiles towards armored vehicles.

Once identified it launches its own weapon that neutralizes the incoming missile mid-flight; at the same time, within seconds it directs the tank's barrel towards the exact point from which the missile was shot.

The Merkava Tank Administration stated in a press release that "after a series of tests the 'windbreaker' system will be installed on every Namer APC that comes off the production line.

"Together with engineers from the Tank Administration at the Defense Ministry, the first operational testing of the Namer (Merkava APC) equipped with the new system began this week," the announcement continued.

Brig. Gen. Baruch Matzliah, head of the Merkava Tank Administration, said: "The Namer with the 'windbreaker' will provide IDF soldiers with the highest level of protection there is and grant them security and a significant edge on the field of battle."

The IDF's Golani Brigade has been using Namer APCs over the last few years. The security establishment's aim is for other regular infantry divisions to be equipped with them as well, so that they can be deployed in the next war in the north or in Gaza.

The strength of the Namer lies not only in its upgraded active protection but also in its high speed and ability to navigate open, rough terrain.