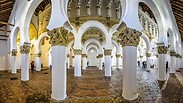 A church in Toledo, Spain, that used to be a synagogue (Photo: Shutterstock)
Spain's Jews, once expelled, now embraced by Spain
A law passed last October grants Spanish citizenship to all descendants of Spanish Jews who apply for the reinstatement of their Renaissance-era citizenship within three years. So what does it mean to the descendants of those Jews to claim Spanish citizenship, 500 years later?
If any single human being can be said to represent what it meant to be a Jew in the 20th century, it may be the aptly named Jewish everyman, Joseph Cohen, 60, a kibbutznik from central Israel.

Cohen, who goes by the nickname Yossi, was among a select few Jews of Spanish origin—Sephardim—whose Spanish citizenship was restored 500 years after their ancestors were expelled from Inquisition-era Spain.

For Cohen, and for many others, 500 years is not a long enough period of time for forgetting. Asked about the significance of the event for him personally, Cohen told The Media Line "first of all, of course, the historical justice."

A law passed last October grants Spanish citizenship to all descendants of Spanish Jews who apply for the reinstatement of their Renaissance-era citizenship within three years.

The straight-talking Cohen was born in the nation then known as Belgian Congo — today the Democratic Republic of the Congo. His father, Roberto Cohen, was the first-born son of a Jewish family in Rhodes, Greece. It was common, he explains, for the scions of prominent families to go to "colonial estates" to make their fortunes. Cohen père was born and died a citizen of Italy, the nation that between the two world wars governed Rhodes.

Cohen's mother, Matilda Menashe, was not so lucky. After the German conquest of the Greek Aegean islands during World War II, like almost all Rhodian Jews, she was corralled and sent to Auschwitz. She was one of a handful to survive. Rhodes, that had once been one third Jewish, today has no permanent Jewish residents.

After the war, with nowhere to go and no family to greet her, and only her Italian citizenship in hand, she too found herself in the Congo.

After Yossi's birth, the family made its way to Israel. In the early 1970s, Matilda inadvertently lost her Italian citizenship when she requested an American visa so as to be able to visit her sister, and receiving it via the Israeli Ministry of Interior, was told she had relinquished her Italian passport.

Thus was it that Yossi Cohen, then a legal minor born an Italian subject, lost his citizenship of birth via his mother, in a roundabout way he still cannot comprehend. "When we immigrated to Israel, we did so on Italian passports," Cohen says, still bitter. "My mother's attempts to regain her Italian citizenship, and then mine, all failed. They absolutely were insistent on this point, that somehow because of the US visa we all lost our citizenship. I think they were afraid of Holocaust-related claims, from citizens who had lost everything."

Niccolo Manniello, the Consul at the Italian embassy in Tel Aviv, explains that until the early 1990s, Italy did not permit dual citizenship and "thousands of Italians" inadvertently lost their nationalities. Yossi Cohen continued to file requests to regain his Italian documents till the turn of the century. At one point he brought his father's passport to the embassy. It has never been returned.

In a poetic twist of history, Yossi became part of the first group granted Spanish citizenry at a solemn ceremony held at the home of the Spanish Ambassador to Israel, Fernando Carderera Soler. This turn of events was thanks to his own son, Oded, at 17 the youngest of his four kids. Still a minor, Oded could acquire his new/old documents via his father's reinstatement.

Manuel González Garagorri, the new Spanish consul in Tel Aviv, found himself responsible for a ceremony with no protocolary antecedents.

Speaking with The Media Line, he said "it was really very, very moving to be part of this. It's not usually a consul's job, you know. Here I had the feeling that they're not only regaining something for themselves, but that they are making an homage to their ancestors. There were some very aged people there who will not really be able to make use of this citizenship. But for them, the ability to 'return to Sefarad' gives them a feeling of mission accomplished vis-á-vis their own ancestors. For the young people, of course, it will now give them something which they in turn can give their children and grandchildren."

González said he found "so poignant, and almost impossible to grasp" that the ceremony could be held in its entirely in Spanish. "It gave me goose bumps to think of these people whose ancestors suffered what they did, yet who preserve Hispanicism, the Spanish language and Spanish culture hundreds of years later. It is just amazing. We needed Hebrew only for the outside guests."

To mark the occasion, the embassy gathered an astonishingly diverse group of Israelis originally from Tel Aviv, Istanbul, the Spanish-held North African enclave of Tétouan, among many other places, the oldest born in 1929 and the youngest, Oded Cohen, born in 1999.

Everyone seemed affected by the historic nature of the gathering.

Ambassador Carderera, quoting the King of Spain, Felipe VI, said: "It is not frequently that one has the privilege of writing new and positive pages of history. But I am certain that at this time, with this act and at this event that brings us together today, each of us feels we are present at just such an occasion."

Why has Yossi Cohen, an established Israeli, spent so much of his life trying to get another passport? "It is for my kids, not for me," Cohen says. "I'm not sure what will happen here in this country. I don't know what is coming here, and I want my kids to have an alternative.

"I'm not worried about security," he explained. "But the atmosphere here; the ultra-Orthodox who don't serve and this war the government has declared on pluralism and the secular values of the state. I really don't know what is coming."

A Wandering Jew? Check.

Touched by the Holocaust? Check.

Marked by the itinerant life of the refugee? Check.

A salt-of-the earth Israeli kibbutznik? Check.

Anguished by Israel's precarious predicament? Check.

A new-old citizen of an empire that expelled the Jews? Check.

Ladies and gentlemen, meet Yossi Cohen, the contemporary Jewish everyman.