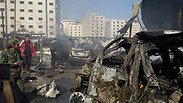 At least 60 people were killed and dozens wounded on Sunday in a terror attack at a southern district of Damascus where Syria's holiest Shi'ite shrine is located.

There were three explosions near the Tomb of the holy Zaynab, the daughter of Ali ibn Abi Taleb, the cousin of Prophet Mohammed whom Shi'ites consider the rightful successor to the prophet. The dispute over the succession led to the major Sunni-Shi'ite schism in Islam.

The heavily populated area is a site of pilgrimage for Shi'ites from Iran, Lebanon and other parts of the Muslim world.

A Syrian Interior Minister official told the state news agency SANA that a car bomb first went off at a bus terminal, and two suicide bombers then blew up among the people who gathered to help the wounded.

The Sayeda Zaynab shrine area witnessed heavy clashes in the first few years of the conflict, which began in 2011, but has since been secured by the Syrian army and Shi'ite militias led by Hezbollah, which has set up protective roadblocks around it.

In addition to being an important religious site for Shi'ites, the site of the attack has become a point of gathering for Hezbollah fighters and fighters from other Shi'ite militias who are fighting alongside the Assad regime in Syria.

The Islamic State organization claimed responsibility for the attack. The Amaq news agency, associated with ISIS, said the group committed the attacks in order to hurt the most important stronghold of the Shi'ite militias in Damascus.

In the past, Hezbollah justified its fighting in Syria by saying it seeks to defend the tomb of the holy Zaynab.

Reuters contributed to this report.