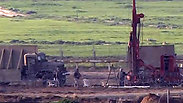 Searching for tunnels
Photo: Roee Idan
In an effort to assuage increasing concerns by Israelis living along the Gaza border, who say they've been hearing Hamas digging tunnels under their homes, the IDF has started to drill along the border in an effort to locate terror tunnels.

The military is also installing classified technological systems to identify tunnels.

Hamas announced last week it had rehabilitated cross-border tunnels destroyed during the 2014 Operation Protective Edge - a muscle-flexing message to Israel, its security partner Egypt and Palestinian President Mahmoud Abbas, the Islamists' US-backed rival.

"The resistance factions are in a state of ongoing preparation underground, above ground, on land and sea," Hamas deputy leader Ismail Haniyeh said at a rally called to honor seven tunnelers who were killed in a cave-in on Tuesday.

Haniyeh claimed that Hamas has twice the number of tunnels as those used in the Vietnam war against US forces - a tall order, but bold enough a claim to shore up the worries of Israeli residents.

In light of repeated claims by Israelis living along the border that they've been hearing banging and clattering at night, the IDF has been working to examine each such report. So far, the military has yet to find an attack tunnel inside Israel.

"The fear among everyone here is constant," Nissim Hakmon, from moshav Pri Gan near the Gaza Strip, told Reuters. "I've heard the sound of a hammer and chisel and my neighbor says she can hear them digging under the cement. We're stressed out."

IDF searching for tunnels (צילום: רועי עידן)

Underground infiltration by gunmen from Gaza "is something we know deep inside is just a matter of time, even though we tell the kids everything is okay," Hakmon said.

During Operation Protective Edge, IDF engineers unearthed and destroyed 32 tunnels, and have since, with US help, been developing a half-dozen technologies for detecting digs along the sandy, 65-km (40 mile) frontier with Gaza.

When those counter-measures might be ready is a closely guarded secret. Hamas, for its part, may be hoping to lay down as many new tunnels as possible before the system is in place.

"We are not asking for war, but getting ready for one should Israel launch it," Hamas military spokesman Abu Ubaida said.
'Every complaint being checked'
The IDF has also been working to alleviate concerns by holding briefings for the residents, in which senior officers in the Gaza Division review the actions taken to deal with the threat of the tunnels, and stressed that at this point Hamas is not interested in escalating the situation.

Gaza Division Commander, Brig.-Gen. Itai Virov, met with the heads of the Gaza border communities on Sunday evening, while another senior officer met with the communities' heads of security.

"We're in a better situation now than we were before (Operation Protective Edge)," Virov told the Gaza border community leaders. "Now, we are aware of the danger and invest great efforts and spare no resources in order to try and locate tunnels. It's clear to us Hamas keeps digging, this is our working assumption. There's no overarching solution to identify the tunnels, but we're working non-stop and searching the area, ruling out some parts."


The community leaders pressed Brig.-Gen. Virov about plans to build a "smart fence" along the border, which should also be able to identify tunnel-digging.

The Gaza Division commander assured them there was no budgetary limitation to dealing with the threat of tunnels, and assured them each of their reports of digging sounds in the middle of the night is being thoroughly examined, while there is also ongoing intelligence activity to locate the tunnels.

Last week, Yedioth Ahronoth and Ynet revealed an IDF officer told leaders in one of the regional councils along the Gaza border that Hamas has already recovered its military power and is ready for any possible escalation. The officer also told them that Hamas continues its tunnel digging.

In the wake of this report, residents along the Gaza border started reporting to the IDF that they've been hearing noises coming from underground.

Last Friday, a family hiking in the Sderot area noticed a hole in the ground and suspected it could be a tunnel. IDF forces were sent to the scene, but it turned out this was an archeological dig.

"Every complaint by residents is being checked," said one of the regional council leaders. "We don't take this issue lightly. The tunnels are a threat that creates a lot of fears, but the fact we can see the IDF working in the field and looking should send a message that this issue is a top priority. The residents' vigilance is a blessed and good thing, and should remain that way."

The residents' alarm and calls for preemptive military action by opposition politicians roused Prime Minister Benjamin Netanyahu to warn Hamas on Sunday.

"Should we be attacked through Gaza Strip tunnels, we will take forceful action against Hamas, with far greater force than was used in Protective Edge," he said, referring to the 2014 war.

"We are working systematically and level-headedly against all threats, including the Hamas threat, through both defensive and offensive measures."

Reuters contributed to this report.