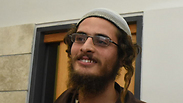 Meir Ettinger
Photo: Avihu Shapira
The Defense Ministry said Monday evening that radical right-wing activist Meir Ettinger will remain in administrative detention for four more months.

Meanwhile, the Shin Bet decided Evyatar Slonim, another right-wing activist arrested along with Ettinger, will be released in the coming days under restrictions.

Ettinger, considered the Shin Bet Jewish Division's no.1 target, was supposed to be released on Tuesday after six months, but Defense Minister Moshe Ya'alon decided to extend his detention after a situation assessment with the Shin Bet.

Ettinger was arrested in early August on suspicion of involvement in a radical Jewish terror organization. He has been on hunger strike over the past week in protest of the conditions of his detention.

The 23-year-old Ettinger is the grandson of Rabbi Meir Kahane. He is suspected of being at the head of a terror cell that planned to commit a series of violent acts against Palestinians as part of a plan he refers to as "The Revolt."

According to his worldview, violence must be committed in order to light the flames of conflict and cause the Israeli government to collapse. Anarchy would follow, and then a new order could be created.

"The meaning of bringing down the state is toppling the structure of the state and its ability to rule, and to build a new institution," wrote Ettinger in a document outlining his plan.

"To this end, we must work outside of the rules of the institution we want to bring down."

Evyatar Slonim holds an Australian passport, and his parents, who have been working to bring to his release, recently turned to the Australian ambassador to Israel and asked him to intervene.

In a letter the parents sent the ambassador they claimed that now that the Dawabsheh murder case has reached the indictment stage, there is no real cause to keep their son under arrest.

"Our son has not committed any crime and does not deserve to be behind bars. Please help our family in any way that you can, so that Israel will fulfill its moral and democratic duties," the parents wrote.

The Shin Bet, meanwhile, claimed Slonim posed a risk to national security.

Attorney Aharon Rosa with Honenu, who represents Slonim, welcomed the decision to release him, saying the arrest was "an exaggerated action to begin with, which harmed my client's freedom for no appropriate reason."

Mordechai Meyer was also arrested along with Slonim and Ettinger, but has already been released three weeks ago.

Even though the extension of Ettinger's administrative detention was expected, his family and friends have been trying to pressure the state to release him.

Ettinger's wife Moriah wrote an article on the "Jewish Voice" website, saying: "My brothers and sisters, the people of Israel. Have you ever heard of Meir Ettinger? The dangerous one, with the horns? Allow me to paint you another picture. My husband, Meir Ettinger, is a gentle man, soft, shy, and reticent. He's all pleasantness. He's the man who helps all his friends, finds a lost child's mother and listens to those who need.

"The administrative detention is about to end, God willing, but they have the option of extending it over and over again, and it's up to us. It's up to us how long our silent agreement and the legitimization we give to the most severe form of violence continues. Violence against true Jewish dialogue. And that is the truth. It's not about him, it's about us and how we want our life to look."