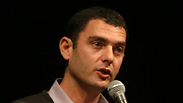 Im Tirtzu Director-General Matan Peleg.
Photo: Motti Kimchi
"Let there be no hope for informers", says the Shemoneh Esrei prayer. That harsh saying has many different and interesting religious interpretations, but when I was young, me and the other kids at a secular school in Tel Aviv took it literally: Bad things are in order for people who inform on their buddies. We wrote the words on a large piece of cardboard paper, and hung it on the wall next to the principal's office.

Since his office was near the restrooms, one child made a slight change to the sign, switching the Hebrew words to mean "Let there be no hope for those who pee." It created a small controversy, one of many. The school itself closed down years ago. Its restrooms now service the coffee shop that has since opened nearby. Whenever I schedule a meeting there, I make sure to give that wall a respectful visit. Not because of the restroom: Because of the informers.

Today's Israel perhaps shows no hope for informers, but it provides plenty of work for them. Right-wing organizations are tracking left-wing organizations, digging into their garbage cans, sending undercover members to infiltrate them, grabbing quotes from Facebook and Twitter. The funding for all this usually comes from outside, from foreigners, or from the state treasury, through a chain of intermediary channels. The stated intention is to display these leftist organizations' activists as foreign agents, and their activities as treasonous. That's just the official story. The real point is to eliminate any internal criticism of the status quo in the Palestinian territories. Anyone who raises their head shall see it lopped off.

Im Tirtzu is but one of the organizations that make a living off of informing on leftist organizations, perhaps the one with the most nerve. There are others, some of whom put on a respectable front – half academic, half journalistic. In fact, they all strive for the same exact goal. The all swim in the same filth; they all inform on all the rest.

Last week, Im Tirtzu went a step further in its witch hunt: It published the names of authors, creators, and artists whom its people believe to have sinned by showing support for human rights organizations. These people are referred to as "plants," meaning traitors, foreign agents. The list featured the cream of the Israeli cultural crop, the nation's most precious assets in that area, multiple recipients of the Israel Prize.

This time they went too far. The publication was heavily criticized by other right-wingers, and the Im Tirtzu director general was forced to take a half step back. Next time he'll be more careful. He wasn't the only one who was frightened: Ben-Dror Yemini – who is conducting an impressive anti-leftist-organization campaign on many platforms (including this website) – saw that there was a problem as well. "I must repent," he wrote in Yedioth Ahronoth last Friday, "I could have been wrong." The mistake he's willing to admit is that he did not understand that the shaming he used against Amos Oz, David Grossman, and others might lead to censorship and the cutting of funds by the state.

Sadly, he still doesn't understand. Yemini attacked Oz with the Im Tirtzu method: Oz's great sin is that he's registered as a member of the B'Tselem public council. According to Yemini, the same council has in it an Arab member who supports Israel's destruction.

That technique is called shaming – targeting by way of association. If someone who sits with you in the same room, was in the same discussion as you, is a suspect – then so are you. That's the method Joe McCarthy used to tarnish American democracy in the 1950s. McCarthy also thought he was clensing the state of traitors, that he was fighting for its existence against its foes worldwide. He made the American society paranoid. McCarthy was tossed out of politics shamefully, but the virus he spread wreaked havoc on US society for years after he was gone.

The lesson from the Im Tirtzu affair is simple: Delegitimizing a political opponent is a sickness; informing is poison. No one is a plant, not a leftist organization that receives money from the European union, and not a right-wing organization that receives money from evangelicals or other suspect sources.

The reliance on foreign money is angering; it weakens the moral strength of right- and left-wing organizations, perhaps also corrupts them from time to time. But it does not make them into traitors. It's better to stop with the McCarthyist campaigns in advance – someone might start taking them seriously.