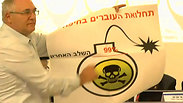 Haifa pollution situation a 'nuclear bomb'
Researchers from Haifa University, who yesterday published statistics on the impact of pollution in the Haifa area on children, have defended their findings in the wake of the public storm unleashed by their study, which included criticisms of their methodology.

The researchers on Tuesday afternoon published their first response to the controversy their research has generated, in which they attack those suspicious of their findings.

"Following the publication of anonymous responses in the media, the team of researchers would like to clarify that it stands behind the study and its methodology," the statement said.

"It was approved in advance by a professional committee which counted representatives from the Ministries of Health and Environmental Protection among its members," the statement continued. The reference to "anonymous responses" is thought to be a veiled attack on the Ministry of Health.

The researchers also reiterated that their findings would be sent for peer review in March.

On Tuesday evening, a stormy meeting took place at the Haifa city council, which immediately erupted into shouting and recriminations before it had even begun.

Minister of Health Yakov Litzman attended the meeting, which had been convened specially to discuss the potential ramifications of the concerns raised by the study, including the fear that the heavy pollution is damaging the health of babies in the area.

Litzman said in the meeting that his ministry had not authorized the study. "A study needs to be approved by the relevant authorities, meaning the Ministries of Health and Environmental Protection," he said.

Shouts erupted at him and at Minister for Environmental Protection Avi Gabbay, with a Haifa council member saying: "Minister Gabbay, you have a nuclear bomb here, a chemical bomb, in the bay. It's the 11th hour."

Meanwhile, city residents and their children gathered outside the building in which the meeting was being held, protesting against the health minister and the Haifa mayor for not revealing the study's worrying results.

The Knesset is tomorrow expected to debate the Zionist Union's proposal to establish a parliamentary committee in order to examine the situation in the Haifa bay.

Head of the Zionist Union's parliamentary group, MK Merav Michaeli, said: "The city's public has a right to know what their children's fate and whether the State of Israel is allowing the endangerment of their health. A parliamentary investigation committee is an essential step towards examining what damage has been caused and how to stop it, or at least reduce it."

Rotem Elizera, Hassan Shaalan and Moran Azoulay contributed to this report.