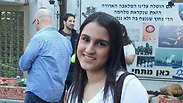 Border Policewoman Hadar Cohen
Hundreds on Thursday attended the funeral of Hadar Cohen, the 19-year-old Border Policewoman killed in a terror attack at the Damascus Gate in Jerusalem on Wednesday.

The funeral, held at the military cemetery of Yehud, was attended by her fellow Border Policewoman Ravit Mirilashvili, who was seriously wounded in the attack, as well as Police Chief Roni Alsheich, and Public Security Minister Gilad Erdan.

Hadar's father Ofer recited the Kaddish prayer and then eulogized her: "My beloved daughter, you were more beloved to me than anything. How am I supposed to separate from you now?

"Everyone says you were a hero, a true heroine, and that you saved a lot of people with your body and soul, but no one really knows you my Hadari, your warmth. I have four words to say to you: I'm proud of you. Proud of you and I salute you. Rest in peace, May your soul be entwined in life," he concluded.

Her sister Mor tearfully eulogized her: "My dear Hadari. Our dear, you have become cherished by the entire nation of Israel. I'm writing to you in tears of blood, of deep pain and shock. I can't believe it, my beloved Hadar."

Police Chief Roni Alsheich began his eulogy with a recital of Natan Alterman's poem The Silver Platter then added, "Hadar, two of her friends and another young man thwarted a major attack in the capital…If they hadn't engaged the terrorists a catastrophic planned attack would have taken place, which brings Jerusalem back to very dark days."

Earlier Thursday morning, Prime Minister Benjamin Netanyahu visited Border Policewoman Ravit Mirilashvili and the IDF soldier who was wounded in a terrorist attack in Beit El several days ago at Hadassah Mt. Scopus Hospital.

Netanyahu said that he "just visited with the Border Policewoman who – along with her comrades – acted with heroism and resourcefulness. Together with their commander, they prevented a much greater disaster. I was impressed by her courage, tenacity and steadfastness, and of her family. Of course, we all grieve over the death of Hadar Cohen, a genuine hero. We all embrace her family.

"We are in a very major effort against terrorism. Kabatiya is cordoned off. The IDF and the Shin Bet are carrying out widespread arrests. We have revoked very many permits to work in Israel and the Attorney General informed me yesterday that he has slated several more terrorists' homes to be sealed and demolished. This is only part of our efforts to fight this terrorism, and we will defeat it. It will take time; this is a protracted struggle. Islamic terrorism is inundating the world and inciting millions in many countries, from Jakarta to Africa to California. We are part of this turmoil, it is not skipping over us, and we are fighting it with great strength and will continue to do so," he added.

Prime Minister told the wounded Border Policewoman and soldier: "Your reactions and your resourcefulness prevented terrible disasters. The entire Israeli people embrace you and hope that you will recover quickly."

Ravit Mirilashvili told the Prime Minister how the incident unfolded, including the action taken by the Border Police and her involvement. She said, "We are here to protect civilians. This is what we were drafted for and this is why we are here. I have no doubt that Hadar knew this and acted in this light. I understood that Hadar saved my life."