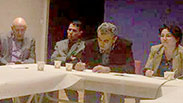 The controversial meeting.
A day before Palestinian President Mahmoud Abbas met the families of terrorists in his Ramallah office, three Knesset members of the Joint Arab List met terrorists' family members, among them those who have perpetrated deadly attacks as part of the current terror wave.
The three MKs in question are Haneen Zoabi, Jamal Zahalka, and Basel Ghattas. Among the relatives of what the MK's called "shaheeds" (martyrs) was the father of Baha Aliyan, the terrorist who murdered three in a combined stabbing and shooting attack on a Jerusalem bus, along with his collaborator Bilal Ranem.
Aliyan's father said in a video that the meeting was "warm and productive." According to him, "The Palestinian Knesset member brothers listened to the suffering and pain of the shaheed's families, whose bodies are held in Israel."
According to the terrorist's father, "The Knesset members' hearts were open and they listened to every word we said. They emphasized that they would make every effort to return the bodies by pressuring the government in the Knesset and conducting talks with the security and diplomatic officials in the Israeli government. It was settled that we would continue to meet in order to keep track of the matter in the near future."
The three MKs who came to the meeting were from the Balad faction, even though all of the Joint Arab List's MKs were invited.
The Balad faction said in response that "the MKs met with the families who asked to release their sons' bodies for burial. The request has been forwarded to the Public Security Minister and he is dealing with it."
Yisrael Beiteinu Chairman MK Avigdor Lieberman said of the meeting, "There is no longer any need for proof that the Joint Arab List's MKs in general, and the Balad faction in particular, are representatives of terror organizations in the Knesset. The meeting of all of Balad's Knesset members with the families of terrorists who murdered Jews is just a reminder for those who still need one, in the government and law enforcement system, that we need to remove these terrorists as fast as possible from the Israeli Knesset, and preferably from the State of Israel."
Minister of Education Naftali Bennett also spoke of the meeting. "This is a black stain that will be recorded in the chronicles of the state," he said in a speech at Bar Ilan University, "I am calling out to the Arab public: You are better than this. Cast these people out. We need to be a unified state, and there is not unity if Knesset members go and meet our enemies and killers."
Moran Azulay, Shahar Chai, and Telem Yahav contributed to this report.