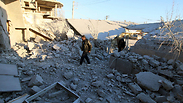 Assad army lays siege on Aleppo
Photo: Reuters
ANKARA - A high-ranking member of Iran's elite Revolutionary Guards Corps (IRGC) and six Iranian Basij militia volunteers have been killed in fighting in Syria, semi-official Iranian media said on Friday.

The Islamic Republic says it has military advisers and volunteers in Syria to help President Bashar Assad's forces in their war with rebel groups including Islamic State militants. It denies having conventional armed forces in Syria.

The semi-official news agency Tasnim said IRGC Brigadier General Mohsen Ghajarian was killed in the northern Syrian province of Aleppo, where there has been heavy fighting of late.

Tasnim did not say when he was killed but that he had been advising Assad's forces in fighting Islamic State.

"Six volunteer Basij members were martyred (killed) in Syria while fighting against takfiris near Aleppo while defending Shi'ite holy shrines," Tasnim added.

By "takfiri", Tasnim was using a derogatory Arabic word denoting ultra-radical Sunni Muslim militants, a clear reference to Islamic State, whose members regard Shi'ites as heretics. Iran is the Middle East's Shi'ite power.

Iranian media have reported the death of over 100 members of the IRGC and Basij, an affiliated volunteer militia, in the past few months in Syria. Tasnim said public funerals would be held for the latest Iranians killed in Syria.

The United Nations on Wednesday suspended the first Syria peace talks in two years, halting an effort that seemed doomed from the start as the war continued to rage without respite.

The United States said on Thursday, however, that it was hopeful the talks would resume by the end of the month, and Russia said it expected that to happen no later than Feb. 25.