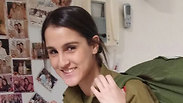 Hadar Cohen. Will always be remembered for her heroism.
Hadar Cohen is a hero who will always be remembered as someone who prevented a large number of casualties in a terror attack. The picture, published on Yedioth Ahronoth on Wednesday, showing Cohen at her swearing-in ceremony as a Border Police soldier – standing between her parents Sigalit and Ofer in a moment of joy, happiness and great pride – has stayed with us, tormenting those whose glance it meets.

Beyond the pain of loss, questions regarding the judgment of Border Police commanders in deciding to post soldiers who were drafted just two months ago to the Old City's Damascus Gate – one of the most difficult conflict spots in the current terror wave – also lingers.

A few days ago, at the National Security Council conference, four people who are familiar with all of the intelligence presented what they believe are the biggest threats Israel will be facing in the foreseeable future.

President Rivlin said that threat had to do with ISIS and its influence on extremism in the Israeli Arab population; IDF CoGS Eizenkot pointed at Hezbollah; Outgoing Mossad Director Tamir Pardo spoke of ISIS as well; and Defense Minister Moshe Ya'alon claimed the biggest threat to us is actually Iran.

Not one of these men said "Hamas." No one spoke of the Palestinian uprising in the territories. But when it comes to Hadar Cohen's death, with all due cautiousness in mind, something must be said: She is the victim of Netanyahu and his associates' lack of a will to make crucial decisions in this critical area. The Security Cabinet's refusal to deal with the necessary conclusions and change the state that has been forced upon us in the past few months is the root of all the evil we've been experiencing here recently.

On the ground level, if the decision that we were in a state of war with the Palestinians was made, it would lead to the conclusion that there's no justification to send soldiers who have just been drafted to the Damascus Gate. In a war, the best units available should be placed at the Damascus Gate.

On the state level, if our side recognized that in order for us to exit the cycle of bloodshed Israel must separate from the Palestinians, or alternately show initiative in improving their economic status, while providing them with full civil rights under Israeli rule – a move that would mean annexing the Palestinian Territories – Hadar would probably still be alive.

The Cabinet discussions indicate that nothing is planned – in any way. That's why we can easily estimate that the "sit idly" police, which makes do with publishing statements accusing Abbas, Ban Ki-moon, the American ambassador, the European Union, and others of giving aid and comfort to terrorists will only lead to horrifying results for us. We must admit: This is not another cycle of terror attacks. This is a foreshadowed escalation, on the way to total chaos.

Four months ago they told us it wasn't a Palestinian uprising, but a bunch of criminal acts perpetrated by lone wolves. Then they said it couldn't be determined that known terror organizations were sending these attackers on their often-deadly paths. At this point, we need to face reality.

The military leaders probably understand what's going on. However, they've been saying in background briefings – rightfully so – that those who are supposed to make decisions are the politicians, who were elected by the people.

A former senior official in the state-security ranks said Thursday, in a private conversation, that the pilot Netanyahu was flying his plane off a cliff. The problem, he added, is that we are all on that plane, and it's moving closer to its destination – the ground below.