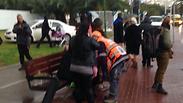 Scene of the attack
Photo: Avichai Segev
A Sudanese migrant in Israel stabbed and wounded a soldier in an apparent act of solidarity with Palestinians and was shot dead, police said.
The stabber tried to flee the scene, but was pursued by civilians and another soldier at the scene. The soldier, who grabbed the weapon of the wounded soldier, caught up with the attacker and shot him, seriously wounding him. The attacker later died of his wounds.
Magen David Adom paramedics evacuated the soldier to the Barzilai Medical Center in Ashkelon in light condition.
Police is still investigating whether the stabbing was criminal or nationalistically-motivated.
If the attack was done in solidarity with the Palestinians, it would be the first such attack by a foreigner during a four-month-old surge of Palestinian street violence.
"The behaviour, the location, the flight, the targeting of a soldier - all of these add up to a nationalistic attack," Ashkelon police chief Shimon Portal told reporters.
He said there was no indication of an event that might have precipitated the knife attack. Before he died, the wounded suspect "mumbled a few unclear statements in Arabic but otherwise did not say a word," Portal said.
A police spokeswoman said efforts to identify the suspect "thus far" had determined he was Sudanese. She did not elaborate on what he had been doing in Israel.
Reuters contributed to this report.