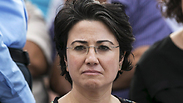 MK Haneen Zoabi
Photo: Reuters
Joint Arab List MK Haneen Zoabi was convicted on Sunday of insulting a public official and received a six months suspended sentence as part of a plea bargain.

Zoabi was also slapped with a NIS 3,000 fine after she verbally attacked Arab police officers outside a courtroom.

According to the charge, on July 6, 2014, Zoabi was present during remand extension hearings at the Nazareth Magistrate's Court for two suspects arrested in the rioting that followed the murder of Mohammed Abu Khdeir.

Two Arab police investigators, Ehab Haddad and Bushur Amer, were at court to represent the police.

During a break, the two were standing outside the courtroom with Zoabi. She raised her voice and said that they were traitors who were sent to gather information and eavesdrop on people.

Zoabi then called out in Arabic to those present that they should work against the police because the two police officers were "Arabs in the service of the state."

The indictment also claims that Zoabi urged those present to spit in the policemen's faces, and said: "They are against our sons and daughters, they should not be among us. They should be afraid of us, of our youth that have been arrested because of the information they send."

As part of the plea deal Zoabi signed, the more serious charge of incitement was removed from the indictment, and the firebrand MK had to apologize.

Judge Lili Jung-Goffer stated that: "The fact the defendant was upset does not justify such a serious outburst against police officers. It is expected, especially from a public representative, to show restraint and take responsibility for the things coming out of her mouth, the results of which could be catastrophic."

The judge went on to say that "The defendant's claims that she has no personal interest in one police officer or another, and her interest is strictly political, do not detract from the severity of her words, as even if, according to her, she has no personal interest in the police officers, the harm caused to them was of personal nature, which is directly connected to these specific police officers and their identity as Arab police officers, and for that she needs to be punished."

Zoabi said that "this is an unnecessary decision, this entire trial is unnecessary. You're not going to find a lot of trials against MKs and public officials over insulting a public worker, there aren't any. That is why this is pure incitement. I'm fighting against the oppression of the regime, we're fighting against a racist policy, we're not fighting against people, which is why I apologized. It's unnecessary. We're standing up for our right to fight. These are police officers, anonymous, minor, who implement policies. I have nothing against them, that's why it's all unnecessary."

Zoabi made headlines last week as well after she and her Balad colleagues Jamal Zahalka, and Basel Ghattas met with families of terrorists, leading many in the public and political spheres called to revoke their immunity.

On Sunday, Zoabi insisted that "Bodies are bodies and need to be returned to the families. It doesn't matter if it's the body of a Jew or an Arab."

"There are bodies held by Israel for four months now," she bemoaned. "We've spoke to Public Security Minister Gilad Erdan and confronted him. We hope he'll meet our demands."

She angrily evaded the question of whether Hamas needs to return to bodies of IDF soldiers Oron Shaul and Hadar Goldin, captured during Operation Protective Edge in the summer of 2014.