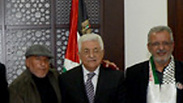 Abbas meets with families of terrorists
Israel has reached an agreement in principle with families of Palestinian terrorists to return the terrorists' bodies for burial, after holding the remains for a lengthy period, Ynet learned on Monday.
The agreement concerns the bodies of ten terrorists from East Jerusalem who committed attacks in the current ongoing wave of terrorism.
The issue caused controversy after three MKs from Balad – Haneen Zoabi, Jamal Zahalka, and Basel Ghattas – met with the families and even observed a minute of silence with them. Balad members promised in that meeting to work towards convincing authorities to return the bodies to families for burial. The families also met with Palestinian President Mahmoud Abbas in Ramallah.
Mohammed Mahmoud, an attorney representing the families, said the body of Ahmad Abu Shaaban, who committed a terror attack near the Jerusalem bus terminal early in the wave of violence, was supposed to be returned on Monday at midnight for burial, but the transfer of the body was delayed at the last moment.
According to the agreement that was reached, the funerals of these terrorists are to occur in the middle of the night and with a limit of only 50 people present. The funerals must end within two to three hours. Each family is also to provide a NIS 20,000 guarantee to police – money that it will not get back if any of the burial conditions are violated.
On Tuesday, the body of Musab al-Ghazali, who committed a stabbing attack in December, will be returned.
The process of returning the bodies is expected to be lengthy and will continue only as long as the relatives meet the conditions. Security sources emphasized that Israel has no interest in holding terrorists' bodies and it's been made clear to families for months that bodies would be returned under the aforementioned conditions.
The bodies have not been released because they fall under the purview of the Interior Ministry, which opposed this policy, unlike the Defense Ministry.
Public Security Minister Gilad Erdan fiercely fought the plan, arguing that the families were not committed to the conditions and that the funerals will become mass displays of incitement encouraging further terrorism.
This stance contrasted with the position held by senior IDF officials who claimed that refusing to return the bodies was causing unrest. Meanwhile, the Defense Ministry's working hypothesis has been that holding the bodies could encourage kidnapping of Israelis as bargaining chips.