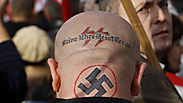 Nazi in Hungary
Photo: Reuters
The Israel-based Simon Wiesenthal Center urged Croatia's government on Friday to dismiss its culture minister, saying he took a disdainful attitude towards Croatian resistance to fascism during World War Two.

The Jewish human rights group expressed "shock and indignation at several actions taken and comments made" by Minister Zlatko Hasanbegovic. Hasanbegovic has previously dismissed similar criticism as unfounded. He could not immediately be reached for comment on Friday.

During World War Two, Croatia was under Nazi control and led by local collaborators called Ustashe. Many Croats fought as partisans within the communist-led resistance movement. Croatia is now a member of the European Union.

"We urge the Croatian government to replace Hasanbegovic with a person suitable for the post of minister of culture who will bring honor and prestige to the post, rather than embarrass his country before the entire world," the director of Wiesenthal Center, Efraim Zuroff, said in a statement on its website.

No comment was immediately available from the Croatian government or from Hasanbegovic.

Zuroff accused Hasanbegovic, a historian who is also involved in publishing, of failing to recognize the genocidal nature of the Nazi-sponsored Ustasha regime, and showing disdain for Croatians who fought against it.

Hasanbegovic is a minister in Croatia's center-right government, an alliance between the conservative HDZ party and the small reformist Most party. Croatia's centre-left opposition and several civic groups have already criticized Hasanbegovic's appointment.

Also last week, the Simon Wiesenthal Center condemned a far-right commemoration in Hungary of a World War II battle in which speakers lauded a wartime pro-Nazi Hungarian leader.

A report on the feol.hu website said a Waffen-SS veteran who was scheduled to speak at Saturday's memorial in the city of Szekesfehervar did not attend for health reasons. The Wiesenthal Center said the event was "another blatant attempt to honor and glorify the perpetrators of the Holocaust."

Last year, international criticism caused a foundation to cancel plans to erect a statue in Szekesfehervar of a Holocaust-era minister who helped draft anti-Semitic laws.

The Wiesenthal Center's Mark Weitzman said authorities' failure to condemn the event, considering that Hungary is currently chairing the International Holocaust Remembrance Alliance, was "an exercise in political and historical hypocrisy."