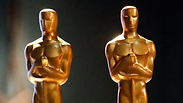 Oscar statuettes
Photo: MCT
The luxurious gift package worth $200,000 awarded to actors and directors who are candidates for an Oscar this year includes a ten-day trip to Israel at a cost of 55 thousand dollars, the Daily Beast reported last week.

Not all the actors and directors who were nominated for an Oscar in three weeks will leave the 88th Academy Awards ceremony with the golden statuette, but everyone is guaranteed a luxurious gift bag donated by the Los Angeles based marketing company Distinctive Assets.

So what surprises will Leonardo DiCaprio, Matt Damon, Cate Blanchett and Steven Spielberg find in their package? Laser treatment to strengthen their skin, a lifetime supply of face cream and a trip to Israel.

Yes, indeed. Distinctive Assets is offering the nominees a ten-day trip to the Holy Land including first-class flights and hotel accommodations - all worth 55 thousand dollars. The trip is in fact the largest chunk of the benefits package as it is $10,000 more than a walk tour of Japan or an annual subscription to rent a car.

So can we expect Jennifer Lawrence or Christian Bale to visit Israel in the near future? It is likely that they will prefer the more easily available gifts such as three gym classes at home worth $6,250, a personal air purifier valued at $249.99, or a Vampire Breast Lift – a chest sculpting procedure using chemical injections at $1,900.