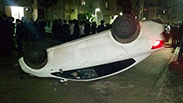 Police vehicle overturned
Military policemen who arrived at an ultra-Orthodox neighborhood in Ashdod on Monday night to arrest an army deserter were attacked by protesters.
The riot began once word that military police had arrived in the neighborhood got out. Tens of ultra-Orthodox men came, surrounded the police vehicle, and began to insult them. The rioters then overturned the vehicle.
A large police force was then sent to the scene and they rescued the military police and dispersed the crowd. Several police cars were slightly damaged as a result of stone throwing.
Last month, dozens of ultra-Orthdox people demonstrated outside the Jerusalem Magistrate Court, protesting the arrest of three ultra-Orthodox men who were suspected of leading a smear campaign against ultra-Orthodox IDF soldiers. The extremists exposed the personal details of "hunters" – the soldiers and officers in the department in charge of integrating the ultra-Orthodox public in the IDF – including full names, photos, ID and telephone numbers, personal addresses, religious affiliations, and even marital status. Each person's role and IDF health profile was also mentioned.
The protesters carried signs bearing the writing "stop persecuting religion," and called for the release of those detained. Some of them were taken in for questioning. A few days previously, the police arrested two ultra-Orthodox men in Bnei Brak and one more in Modi'in Illit, as part of an investigation of the incitement against ultra-Orthodox soldiers taking place in the Jerusalem District.