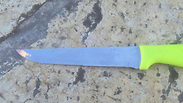 Knife used in attempted stabbing attack
A 16-year-old Palestinian girl from East Jerusalem attempted to stab Border Policemen Tuesday morning at Jerusalem's Damascus gate, and was arrested. No injuries were reported.
Border Policemen saw a young girl who aroused their suspicion. They approached her and asked for her ID. While checking her ID, when she was asked to show them her bag, she tried to stab them. They reacted quickly, pushed her back and overpowered her. She was taken in for questioning.
Earlier Tuesday morning, a 13-year-old female Palestinian armed with a knife came to the entrance of the Karmei Tzur settlement in Gush Etzion. The security guard there arrested her after having received a warning from a resident of the settlement, who noticed the Palestinian approaching the gate in a suspicious manner.
When the guard requested her ID, she threw her knife down and was quickly arrested.
Davidi Perl, head of the Gush Etzion Regional Council, praised the "vigilance of the residents and the professionalism of the security forces, which prevented a disaster this morning."