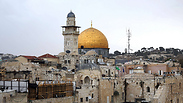 The Temple Mount. A highly sensitive area.
Photo: AFP
Abraham Fua, a 19-year-old Israeli Jew, has been taken in for questioning after singing the Israeli national anthem, Hatikvah ("The Hope"), out loud on the Temple Mount.

Fua also spoke about the importance of visiting the Temple Mount, and the Jewish people's war on the Amalekites (a biblical enemy of the people of Israel).

Abraham Fua sings Hativah and is detained.

The Israel Police stated that the young man's behavior constitutes an attempt to disturb the peace at the Temple Mount. Officials emphasized that Fua knows the rules of visiting the sensitive site well, and that officers acted with caution and restraint. The Police further stated that officers "invest great effort and resources in order to preserve the requisite balance in the Temple Mount, as well as keeping visits on schedule."

The Temple Organization Staff, an association of organizations that advocate the rights of Jews in the Temple Mount, criticized the police's actions. "We condemn the gagging of Jews in the Temple Mount. There's no legal authority to expand the ban on prayers at the Temple Mount, which is absurd on its own, and is a scandalous surrender to terrorist threats," they said.