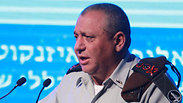 Chief of Staff Gadi Eizenkot
IDF Chief of Staff Gadi Eisenkot Tuesday morning came out in opposition to the calls for a sequel to 2002's Operation Defensive Shield in the West Bank.

Eisenkot spoke at an event held at the Interdisciplinary Center (IDC) in Herzliya, commemorating former IDF Chief of Staff, the late Amnon Lipkin-Shahak.

"Those who don't know the reality in the field is calling for an Operation Defensive Shield 2," he said, "those who know the reality know that Defensive Shield 2 isn't relevant in the field." Several public figures, including Bayit Yehudi leader Naftali Bennett, have come out in the past in favor of a wide-ranging operation in the West Bank.

Regarding the current terrorism wave, Eisenkot said that "an effort must be made to separate the population and terrorism during severe incidents, allowing those not involved in terrorism to make a living and have hope. We need to strictly abide by the law and the IDF code. The IDF has accepted responsibility for the territories and it is the ruler."

Regarding the claims in Israel, which say the PA leadership in Ramallah is inciting the population, Eisenkot stated that "there is incitement that is done by the leadership as well, and you see it in the Palestinian media. Other than that I don't see a source that is guiding the terrorism and disturbances of the peace. There's a clear Israeli interest, beyond the ethical matter, in solving the economic trouble of Palestinians."

According to Eisenkot, social networks have taken the place of the town square. "In terrorist interrogations we perform, there's a recurring motif that affects everyone and makes them want to grab a knife, and the same viral nature explains the scale of 15,000 worldwide youths who join ISIS," he said.

Eisenkot spoke of the threat by ISIS, which 50-70 Israelis have joined, saing, "ISIS has become the number one enemy these days when speaking of terrorism. Hundreds of youths from around the world, including Israel, are ready to sacrifice their lives for a perception, for an idea."
"Defeating terrorism is possible"
Speaking of Palestinian terrorism in general terms, Eisenkot mentioned that "defeating terrorism is possible, we've proven in fact that suicide bomber terrorism can be defeated. We have been asked throughout the years - if we have defeated Palestinian terrorism, suicide bomber terrorism, how is it that it has continued to draw blood. This is not the first intifada and not the second, we're not seeing a leadership, not seeing Hamas. There's a new pattern that is gaining internal empowerment from external events."
He later added that "we have developed an operative-tactical pattern. When I look at our experience in the face of murderous terrorism, I'd say that we invest first and foremost in intelligence superiority. This perception is based on very high intelligence abilities, it's the main reason for the defeat of suicide bomber terrorism and for having a decent security situation over the years. Everyone at home has a kitchen and knives, and you take a knife, put it in your pocket and go perpetrate a terror attack."
The COS spoke of the concerns expressed by Gaza border town residents, regarding Hamas tunnels that may reach their homes. According to Eizenkot, "This is a central threat, it is at the top of the IDF's priority list, and an intelligence and operational effort is taking place in this area. During (Operation) Protective Edge, the IDF took care of 33 tunnel axes. Our enemies aren't abandoning this issue, Hamas chooses to direct a lot of resources at preserving a pattern of action, which creates, according to their perception, a balance against Israel with which to insert covert forces and perpetrate attacks. It's a big challenge and we are not letting the quiet in the south fool us. 2015 is the quietest year the south has seen."
He added that, "the threat of offensive tunneling is the number 1 mission this year. There's widespread activity consisting of initiatives and of us searching for every possible idea to neutralize this threat. We have advanced abilities. A mid-process report by the comptroller was published and there's talk in the media, we make great efforts that are hidden from the public's eye, and anyone who comes to the area will see 100 engineering tools that work. The question of whether there's a need for advanced preventative offensive action should be discussed in the appropriate places."
Eisenkot also spoke, in an unusual move, against the Breaking the Silence organization. "Your duty as a soldier is to report an illegal order in real time, not to come to a conference years later and say 'I am breaking silence.' It's what's demanded of you, it's not your right, it's your duty."