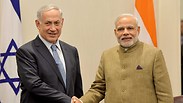 Netanyahu and Modi meet in New York
Photo: Avi Ohayon, GPO
A $3 billion weapons deal is to be signed between Israel and India ahead of a historic planned visit by Indian Prime Minister Narendra Modi to the Holy Land.

India is planning to buy 164 laser systems for its air force, specifically for its Sukhoi-30MKI and Jaguar planes, and 250 precision guided bunker busting bombs, according to a report in The Times of India on Tuesday.

Additionally, negotiations have started on the acquisition of 321 Spike anti-tank systems and 8,356 missiles.

"There have already been more than 20 meetings between the sides following disagreements in the price," said an Indian Defense Ministry official.

"The agreement will be finalized within the next month," official continued, "and we are attempting to bridge the gaps between the two sides."

The Times of India also reported that the Indian military is in urgent need of 3rd generation anti-tank missiles, and needs to arm their 382 infantry divisions and 44 armored divisions. In October of 2014, India decided to acquire the Israeli made "Spike" over the American made "Javelin."

Narendra Modi became Prime Minister of India in 2014, and has been a leading force in strengthening the Israeli-India relationship.

India was also one of only five countries to abstain from voting for the adoption of a UN Security Council Resolution on Gaza. It was the first time that India publicly abstained from a UN vote criticizing Israel in an international forum.