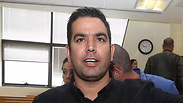 Meni Naftali.
Photo: Gil Yohanan
The Jerusalem Labor Court partially ruled on Wednesday in favor of plaintiff Meni Naftali in his lawsuit decrying the treatment he received from Prime Minister Netanyahu's wife Sara, awarding him damages of NIS 170,000.

His claims of hostile work conditions were fully accepted by the court, which stated that "many pieces of evidence were presented to the court, which point to the Residence having harmful working conditions due to the behavior of Mrs. Netanyahu and her treatment of employees."

The court mentioned that testimony indicated "exaggerated demands, insults, humiliations, and outbursts of rage. Employees were also required to work long and unusual hours. Due to all of this, the turnover rate for employees at the Prime Minister's Residence was high, and it had a chronic shortage of staff members."




President of the Labor Court Dita Pruginin wrote in the verdict that "the Residence being a unique and complex work environment does not justify offensive working conditions, in which helpless employees are forced to work very many hours while being exposed to exaggerated demands, insults and bursts of rage… the Prime Minister's Residence of all places, with all of its complexities, is supposed to be an example and a standard for preserving the rights of workers."

Of the testimony of Mrs. Netanyahu, Judge Pruginin wrote: "In opposition to her version, that she tries not to be involved in household affairs, and that she did it due to not having any other choice during the plaintiff's period of work, the evidence we have been presented shows that Mrs. Netanyahu runs the Residence very actively and with a strong grip."

Naftali, 35, worked as the head of housekeeping at the Prime Minister's Residence under the Netanyahus for a period of about 20 months, from February 2011 to November 2012. He claims to have resigned because a government worker's position as well as tenure, allegedly promised to him, were not given. The defendants in his lawsuit were the Prime Minister's Office (PMO), Deputy Director General of Material and Operational Resources at the PMO Ezra Saidoff, as well as Mr. and Mrs. Netanyahu themselves.