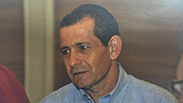 The deputy head of Shin Bet, Nadav Argaman, will now head the organization replacing Yoram Cohen, Prime Minister Benjamin Netanyahu announced Thursday.

Argaman, 55, married to Ruth with three children (aged 10, 15 and 21), is originally a kibbutz member from the Beit She'an Valley who now lives in a town in the center of the country. He enlisted in an elite IDF unit in 1978, and five years later joined Shin Bet. Since then he has served in a variety of operational roles.

He particularly stood out during the second intifada, where he led the organization's operational mindset in hundreds of operations against Palestinian terrorism. "He is a leader and a top-level professional," the Shin Bet said.

From 2003 to 2007 Argaman served as Shin Bet's head of operations and then served for four years as the organization's representative in the United States. Afterwards he was appointed deputy head, and three years later, in September 2014, he was loaned to the Atomic Energy Commission.

Last summer, he was among the candidates to replace Police Commissioner Yohanan Danino, but after the appointment of Roni Alsheich back in September, he returned to being the deputy head of the Shin Bet at the request of the head of the organization, Yoram Cohen, who recommended him as his replacement.

Argaman has a BA in political science from the University of Haifa, a master's degree in political science and an additional masters degree in security and strategy also from the University of Haifa, from which he graduated summa cum laude.

His parents, Tikva and Amiram said to Ynet Thursday evening that "it is a great honor. We are proud of him, have always been proud of him. He should be successful and healthy. Success to all the people of Israel!"