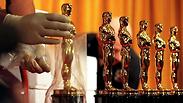 Will the Osrar nominees accept the invitation?
Photo: Getty Images
Palestinians are urging Oscar nominees to decline a free trip to the Holy Land sponsored by the Israeli government.

Tourism Ministry spokeswoman Lydia Weitzman says Israel is offering gratis ten-day luxury vacations to 26 stars including Jennifer Lawrence, Leonardo DiCaprio and Matt Damon. Tourism Minister Yariv Levin said Sunday "their visit will have enormous resonance among millions of fans."

Palestinian activist Omar Barghouti says Israel is fighting "its increasing international isolation through bribes," rather than by changing its policies.

"There are no Hunger Games in Gaza but there is real hunger," he said Wednesday.

In recent years, pro-Palestinian activists have called for boycott, divestment and sanctions against Israel to protest its policies toward the Palestinians. Israeli supporters say the BDS movement is in some cases thinly veiled anti-Semitism.