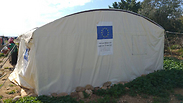 One of the tents that were demolished
Israel's Civil Administration has demolished dozens of illegal Palestinian structures in the West Bank since the beginning of 2016, at least 14 of which were funded by the European Union.

The demolitions were done in the area between Mount Hebron and the Jordan Valley as well as in E1, an area near the settlement of Ma'ale Adumim.

Among the structures demolished were houses, storage spaces and several temporary structures, leaving some of the residents there homeless.

Last week, the Civil Administration, which is under the authority of COGAT, demolished 14 illegal structures at firing range 918 in southern Mount Hebron.

Right wing NGOs claim these structures were funded by the EU, even though not all of them had signage indicating that.

In addition, over the past week the Civil Administration demolished structures near Jericho including four tents funded by the EU and the roads leading to them. Three additional tents that housed 12 Palestinians were also demolished, leaving them without a roof over their heads.

A month ago, right wing MKs leveled harsh criticism on the Civil Administration's enforcement policy in the West Bank, claiming that the Civil Administration knew about illegal Palestinian construction but was not demolishing these structures. The Civil Administration said the enforcement is done based on priorities.

During a meeting of the Subcommittee on Defense and Foreign Affairs in the West Bank, a representative from the Foreign Ministry said the EU is considering a lawsuit against Israel for the demolished structures.

The Regavim right-wing NGO said that "these are important and worthy steps of enforcement, but these are also only initial steps. The Civil Administration is ignoring hundreds of housing structures built by the European Union and hundreds of illegal Palestinian homes still undr construction - and demolishes tents, fences and sheds instead of dealing with serious structures and enforcing the law against them."

B'Tselem said in response that "The latest demolition campaign by the Civil Administration demonstrates that the Israeli government is determined in its efforts to expel the Palestinian communities from Area C, while ignoring its obligations as an occupying force, and dismissing the international community."