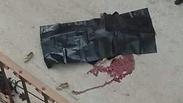 4 Border Policemen lightly hurt in chase after Palestinians
Vehicle transporting Palestinians who illegally crossed into Israel tries to evade capture by trying to ran over Border Policemen and ramming into their jeep; in earlier attack, 17-year-old Palestinian girl fails to stab IDF soldier, accidentally stabs Palestinian passerby.
Four Border Policemen were lightly wounded on Saturday afternoon while chasing a car transporting Palestinians who entered Israel illegally near the Metzudat Adumim base, not far from Ma'ale Adumim.
According to the Jerusalem Police, a police lookout spotted two Palestinian suspects, residents of the West Bank, crossing the separation fence and entering an Israeli vehicle that was waiting for them near the al-Zaim checkpoint. The vehicle started driving towards Jerusalem.
The police lookout reported the suspicious vehicle to Border Police teams who went after it.
Near the Metzudat Adumim junction, the suspicious vehicle got stuck in a traffic jam. A team of Border Policemen got out of their vehicle and headed towards the suspicious vehicle on foot.
When the suspects noticed the officers, they tried to drive in reverse, hit another vehicle and tried to run over the officers.
The Border Policemen then opened fire at the Palestinian car, which kept driving, turning back towards al-Zaim, but another Border Police team blocked their way.
When the suspects noticed the Border Police jeep, their vehicle collided hard with it and came to a halt.
Two of the Palestinian passengers were moderately and lightly wounded from the gunfire. A third Palestinian who was in the car was lightly wounded from the collision.
Two of them, a 14 year old with a gunshot wound and a 40 year old with bruising in his jaw, where taken to the Hadassah Medical Center in Jerusalem's Ein Karem. The third, suffering from a gunshot wound to his stomach, was taken to the Shaare Zedek Medical Center in the capital.
The wounded Border Policemen, aged 21, 29 and 43, were taken to the Hadassah Medical Center in Jerusalem's Ein Karem, suffering from bruising in their extremities.
Police said the incident likely occurred because the Palestinian vehicle was transporting illegal workers and was trying to evade capture.
Palestinian accidentally stabs another Palestinian
Earlier, a Palestinian woman attempted to stab an IDF soldier at the "Tnuva" checkpoint near the Cave of the Patriarchs in Hebron, but instead stabbed a Palestinian passerby.
Soldiers from the IDF's Kfir Brigade noticed the woman, 17-year-old Kilzar Muhammad Abd al-Halim Azmi al-Eweiei from Hebron, who was acting suspiciously, and asked to search her belongings. She opened her bag and pulled out a knife and attempted, unsuccessfully, to stab one of the soldiers.
After being pushed back, al-Eweiei apparently collided with a Palestinian civilian, 52-year-old Abed al-Rajabi, and proceeded to stab him, moderately wounding him.
The soldiers then quickly shot and killed al-Eweiei, whose family is reportedly affiliated with Hamas.
Witnesses told Palestinian news agency Ma'an that al-Rajabi attempted to grab al-Eweiei, apparently trying to protect her from being shot by the soldiers.
Al-Rajabi, who is not suspected of being connected to the attack, was evacuated to Shaare Zedek Medical Center in Jerusalem. None of the soldiers were harmed.
The attacks took place as Washington's UN ambassador, Samantha Power, arrived for talks with Israeli and Palestinian leaders.
"Arrived in Israel... to discuss US commitment to 2 states side by side in security & peace," she wrote on her official Twitter account earlier.