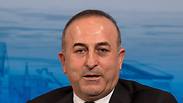 Turkish Foreign Minister Mevlut Cavusoglu
Photo: EPA
Turkish Foreign Minister Mevlut Cavusoglu said that his country and Saudi Arabia may launch ground operations against the Islamic State group in Syria, Turkish media reported on Saturday.

After taking part at a security conference in Munich, Cavusoglu said Saudi Arabia was "ready to send both jets and troops" to Turkey's Incirlik air base, Saturday's edition of the Yeni Safak pro-government newspaper quoted him as saying.

"Turkey and Saudi Arabia may launch an operation (against ISIS) from the land," he added, the paper said.

Cavusoglu did not specify the number of troops or jets, or the timing of a possible Saudi deployment, but said exploratory visits have been made.




Turkish media later quoted military sources as saying between eight and 10 Saudi jets would be deployed in Incirlik within the coming weeks, with four F-16 fighters to arrive in a first wave.

The base is used by the US-led coalition in the campaign against the Islamic State group.

Saudi Foreign Minister Adel al-Jubeir, meanwhile, said in a German newspaper interview: "There is discussion on whether ground troops are needed against ISIS.

"If a decision is taken to send in special units against ISIS, Saudi Arabia is ready to take part."

Saudi Arabia has resumed its participation in air strikes against Islamic State in recent weeks and US Defense Secretary Ash Carter on Thursday welcomed its commitment to expand its role.

US President Barack Obama has ruled out sending American ground troops to Syria. But Saudi Arabia this month offered ground forces to fight Islamic State and Cavusoglu said Turkey and the Saudis would support a coalition ground operation.

"At every coalition meeting we have always emphasized the need for an extensive result-oriented strategy in the fight against the (Islamic State) terrorist group," the newspaper quoted Cavusoglu as saying.

"If we have such a strategy, then Turkey and Saudi Arabia may launch an operation from the land," he added.

In an interview with AFP released Friday, Syrian President Bashar Assad said he "doesn't rule out" that Turkey and Saudi Arabia would intervene militarily in Syria, but said his armed forces "will certainly confront it".

Major powers agreed in Munich on Friday to a pause in combat in Syria, but Russia pressed on with bombing in support of its ally President Bashar Assad, who promised to fight on until he regained full control of the country.

Four months of Russian air strikes in Syria have helped Assad wrest back territory from rebels fighting government forces, alarming Gulf Arab states who back the insurgents.

Asked if Saudi troops could enter Syria from Turkey, Cavusoglu said: "This is a wish, not a planned thing. Saudi Arabia is sending planes and says, 'I can send soldiers for a ground operation when it is necessary'".

Saudi officials could not immediately be reached for comment on Cavusoglu's remarks.

Turkey hosts more than 2.5 million Syrian refugees and tens of thousands more have massed at its borders after a fierce government offensive around Aleppo.

Reuters and AFP contributed to this report.